October 1, 2008
October is Breast Cancer Awareness Month.  I'm sure most women know this. I am doing this post just as a reminder to anyone who may have forgotten.  This month the retail stores and websites are loaded with pink products that when purchased; a portion of the profits, and sometimes 100% of the profits, benefit either the Susan G. Komen for the Cure or the Breast Cancer Research Foundation.
The Susan G. Komen for the Cure is an organization that is close to my heart.  This organization was started by Nancy G. Brinker after making a promise to her dying sister, Susan G. Komen. If there is anyone who has never read the story about this promise between two sisters, it is worth taking the time to read. It's an amazing story.  I just can't imagine losing my sister. Fortunately, our family has not been directly effected by this disease, but that doesn't mean that we don't all have to worry about it.
I've decided to captain a team again this year for the annual Race for the Cure.  My team will  be participating in the San Diego Race for the Cure on November 2, 2008.  It's not too late to form a team of your own.  Go to Susan G. Komen for the Cure and check out the dates for the Race in your area.
Here are a few fun products I found that I just can't live without. I have always wanted a pair of yoga sandals, but I've never ordered myself a pair. Now that I've seen these pink ones, I must have them. I found out about the pink yoga sandals in my latest FitYoga issue. A portion of the sales will go to Susan G. Komen for the Cure.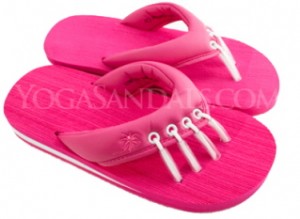 This next item may be more for us "more mature" women; not yet needed by the twenty-somethings or the thirty-somethings . I just think these pink ribbon readers are so darn cute! The elegant pink ribbon subtly sparkles in Czech crystals at your temples. They come in four styles and three color variations. They also come with a microfiber pouch complete with a pink ribbon. The mini pocket reader is adorable, too. $2 from the sale of each pair of glasses benefits Susan G. Komen for the Cure.
Coldwater Creek is giving 100% of the profits of this set of two pink quartz bracelets to Susan G. Komen for the Cure.  These adorable bracelets have a silver "promise" charm dangling from the bracelet. Keep one for yourself and give one to a friend!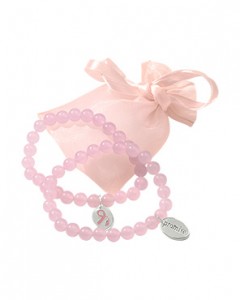 Here are a few more websites that have so many pink products available; I couldn't begin to list them all. This Parade of Pink site is unbelievable! It lists over 70 companies that are participating in donating to fight this disease. It lists exactly how much each company donates to the cause. I think I need to go test drive a new BMW! They will donate $1 for each mile that you test drive a BMW on participating dates.
Check out Red Envelope for their wide variety of pink items. When you purchase any of these items this month, they will donate 10% of the sales to Susan G. Komen for the Cure. BigSis is going to go CRAZY when she sees all these pink products.  She's even more of a pink freak than I am! I love these rings.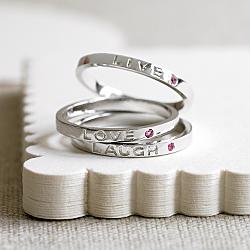 One last item that I think I really need. Amazon is offering a Special Edition Pink 6GB Pocket Drive. BigSis and I both have a little bit of a fetish about office supplies. It's a strange thing, but we could both spend hours in an office supply store.  I just love this little pocket drive.
So, whether or not you have been directly effected by breast cancer, I think it is our responsibility as women to help fight this disease. Odds are that someday we could hear the news that either ourselves, a sister, a mother, an aunt or a friend has breast cancer.  Whether you choose to participate in a Race, donate directly or purchase products from companies donating to this cause, we can all contribute in some way.
"Don't put off til tomorrow what you can do today". I don't know who said that originally, but I like it.

~LilSis