October 17, 2008
We introduced the furkids this week, and anyone who knows me and LilSis knows that we're big animal lovers.  We always had animals growing up, and we've both always had animals as adults.  LilSis always had dogs til TomTom sauntered into her house, and I've always had cats.  Somehow, if there is a high-maintenance health-impaired cat to be cared for, it manages to find its way into my family.  So out of necessity I have become an expert on the challenges of cleaning up feline bodily fluids (and not-so-fluids), including, but not limited to, urine, vomit, hairballs, and poop.  Sorry to be graphic, but if you're a cat lover, at some time or other you will need the straight scoop (so to speak) on dealing with these problems.
The worst problem of all in my experience is a cat who urinates outside of the litter box.  It goes without saying that the first thing you need to do is get the cat to the vet to determine if there is a health issue responsible for the problem.  Then you can move on to the stain and odor issue.  I tried virtually everything over the last couple of years with Warren Bitey.   He literally soaked the carpet in my last apartment, but when I moved out I got my full deposit back because there was no trace of urine left in that carpet.  I kid you not.  Here's the only solution – don't mess around with anything else, you'll just waste your money and the peeing will continue because the odor is still there.  The only product to buy is called UrineOff.  You can buy it from some vets, but I found their prices to be about double the direct online price, plus they only carried the 16 ounce spray bottle and my problem was bigger than that!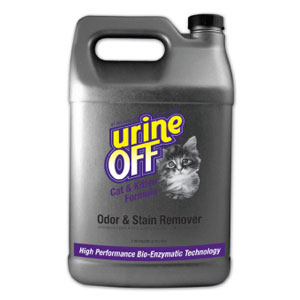 This stuff is not cheap – about $40 plus shipping for a gallon, but it WORKS and is worth every penny.  You saturate the carpet and let the enzymatic solution work its magic.  I found it works best if you let it slowly dry without a fan blowing on it.  If you have a badly soiled area, it may need a couple of treatments, but don't give up.
Hopefully, you don't have the mega-problem of cat urine.  But chances are you do have the random hairball barf, a full-blown vomit spot, a dirty hiney spot on your carpet (gross), or even a poop accident.  What do you do for those stains?  You won't believe it when I tell you because I didn't believe the professional carpet cleaner when he told me.  You get a wide-mouth jar with a screw-on lid, and you fill it with the Magic Solution of 1 part white vinegar to 10 parts club soda.  That's it.  To use it, get a supply of unprinted white paper towels.  If there is any solid matter on the stain, remove it first.  This is nasty to say, but if a hairball has dried on your carpet while you were away, you can usually just peel it off the carpet and proceed.  Take a paper towel and saturate it with the Magic Solution.  Dab it generously onto the stain until it's pretty wet.  Then you want to gently massage the solution into the carpet, but don't rub.  Change to a clean wet paper towel as you need to, and then switch to dry paper towels as you see the stain lifting.  With the dry paper towels, dab dab dab, turning to a fresh spot of towel.  Keep dabbing until the carpet is as dry as you can get it.  If the stain was really heinous, it may be best to do the cleaning in 2 sessions.  You don't want to push the soil down into the pad.  Let the spot dry after one session, and then come back the next day for a second try.  I've never had a stain resist the second treatment, and I lived with 3 cats on off-white carpet for 10 years!
I hope these two miracle workers will make your life with cats a little bit easier, as they have mine! Give them a try and share your results with me!

~BigSis