October 20, 2008
I can't believe it's October already, much less 2/3 of the way through the month!  Before we know it, Thanksgiving will be here, then Christmas, then 2009!  But I'm getting ahead of myself.  Let's not fast-forward to November just yet.
I'm not a Halloween-celebrater myself, but lots of people are, including Martha Stewart.  As with everything else she does, Martha covers every possible aspect of this topic: food, decorating, costumes, pumpkin carving, party ideas, anything you can imagine.  If you need help with Halloween, Martha's your woman!
Do you have a hankering to carve a lacy design on your pumpkins?  No problem.
Are you desperate for costume ideas for the family?  No worries.
Maybe you're dying to make a centerpiece that looks like rotten eggs and worms!  Gotcha covered.
Or perhaps you'd like to make cute decoupaged treat buckets for your little ones?  Here you go.
I think these Ladies Fingers and Men's Toes are hilarious and if I were doing Halloween, this is the kind of thing I'd make.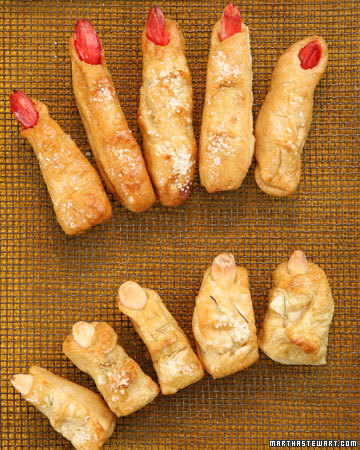 And these little petit four ghosts are too cute!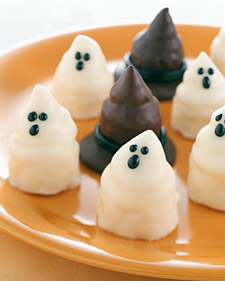 People love to bash on Martha, but I for one see nothing bash-worthy about the pursuit of excellence and cuteness in the things you do!  And if you have Halloweenish things to do, check out Martha!  She's got you covered.

~BigSis