November 20, 2008
I can't believe that Thanksgiving is next week! And, guess what else that means? Vegas, Baby!  SisMama, BigSis, and I will be in Vegas for BigSis' birthday celebration! They will be flying from Dallas to Vegas on Monday; then I'll join them on Tuesday. We will celebrate BigSis' birthday, which is on Wednesday, then we'll fly back home on Thanksgiving Day! It will be a quick trip but fun, fun, fun!  We're staying at one of our favorites, MGM Grand.
We're SO bummed that Elton isn't going to be in Vegas while we're there this time. I was just thinking about the last time we saw him. It was Summer, 2006 and SisMama treated us to the Elton John Red Piano show, which we all LOVED!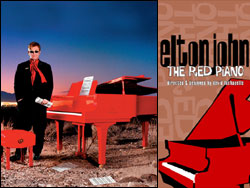 I've seen him three times and still haven't managed to get on stage when he sings "Saturday Night's Alright for Fighting". And believe me, I've tried!
Before the show, we took Daddy and Sis Mama to the Toby Keith I Love This Bar and Grill at Harrahs. Daddy loved that place. He tried their famous chicken fried steak and he said that it was the best chicken fried steak that he'd ever eaten. Good Ole Comfort Food!
Sorry, I got a little sidetracked; I get excited talking about Vegas. Back to Thanksgiving…I'm feeling a little guilty about going to Vegas right at the holiday and leaving SirHoney and BigT in charge of the food!  Don't feel too sorry for them, though. SirHoney will pick up the "cooked" turkey from our favorite spot, Tip Top Meats in Carlsbad, on his way home from golfing. They do a great job at roasting a turkey so I won't feel too guilty that I didn't cook it myself.
I'll make these Refrigerator Potatoes before I leave on Tuesday so they will be all ready to heat up on Thursday.  I know, I know, make ahead mashed potatoes? Don't knock it til you try it. My family LOVES them! (If you're trying to watch your fat and calorie intake; run far, far away from these potatoes!) They are really hard to resist! The men in my family love these so much that I have to double the recipe and make ten pounds.
That leads me to the other side dishes.  If anyone knows of a couple of good side dishes that freeze easily so I can make them ahead this weekend, please leave a comment.  I probably won't make stuffing this year and we aren't big sweet potato eaters, so I'm drawing a blank! I would like something green; maybe some type of spinach dish instead of the traditional green bean casserole.
Thanksgiving Day, I will arrive back in San Diego at noon and home by 1:00.  I can't wait to see if dinner is all ready for me when I walk in the door!

~LilSis