December 28, 2008
It's definitely a busy time of the year and we all have more to do than usual. When I'm feeling overwhelmed and stressed, it is even more important to make sure that I exercise every day. On the days when I may not want to go to the gym or if it's not nice enough outdoors to go for a run, our new Wii Fit game is going to make it so much more fun to do something at home. I've never been good about doing exercise videos at home.
The Wii Fit is really an amazing game! Thanks Bo for the great Christmas gift! On Christmas Day, we all took turns getting weighed and getting our BMI calculated. (Sounds like fun, huh?)
I intentionally have not stepped on a scale in a long time. And, I really had no intention of doing so on Christmas Day after a week of parties and overindulging. So, when we got the Wii Fit, HayHay persuaded me to get on the balance board. Not only does it weigh you very precisely, it also calculates your BMI. First, you take a body test and go through a few balance tests that enables the Wii Fit to calculate your BMI and your Wii Fit Age. (And it also tells you if you're overweight.) If you're not happy with your weight or your BMI, you can set a goal and track your progress daily. Visit the Nintendo site to check it out!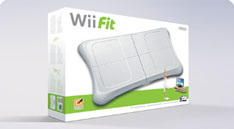 Once you start training, you can choose from yoga, balance games, strength training or aerobics. I had a friend from my yoga class tell me that the yoga on Wii Fit was really hard and she was right! It's really good and the hula hoop is a hoot! I think HayHay and BigT like the snow skiing the best.
My BMI was good, but I've set a goal to lose a little weight. I've recorded my goal on the Wii Fit and am now putting it in black and white so the pressure is on! My first New Year's Resolution is to lose five pounds in the next month.
If I crank up my regular exercise routine and add some fun aerobics from Wii Fit, I'm hoping, and praying, that I can accomplish this goal.

~LilSis