January 1, 2009
I'm really excited to welcome 2009 and say goodbye to 2008!  It was a rough year! Even though we are in California, I have to celebrate New Year's Eve the way I always have, and that's the Southern way. It's Southern Tradition to bring in the New Year with ham, black eyed peas, greens, and cornbread! I don't care where we live, that's just what we do. I grew up celebrating the New Year that way in Texas, and I've done it that way every year since. We even did it when we lived in New York and we do it here in California. It just wouldn't be right to do it any other way!
We almost celebrated this New Year's Eve alone, until at the last minute, we decided to make a few calls, and ended up with twenty friends and neighbors over to help us bring in the New Year. I decided to stick to tradition and make everyone wait until midnight for the peas and ham.  Some of my friends didn't quite understand why we do this, but that's just the way we do it. Period!
I told them it was bad luck to eat them before midnight, so not too many of them complained. We were always told that it brought even more good luck if you counted how many peas you ate. I stopped counting after 365. I've seriously been eating peas since midnight and it is now five p.m! I did sleep from 3:30 a.m.to 8:30 a.m., but have been eating peas during all waking hours today. I think I might explode! Here's a little sample of one of the many bowls I've eaten today.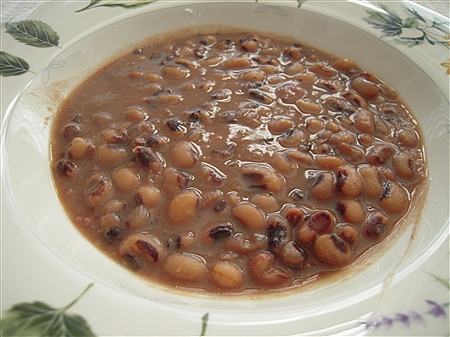 And here's the complete plate of ham, peas, greens, and cornbread. Just in case you didn't know, the greens symbolize prosperity. They aren't my favorite, but I'm actually afraid of what might happen if I don't eat them. Last night, I forgot the cornbread, so this morning, I made the cornbread muffins.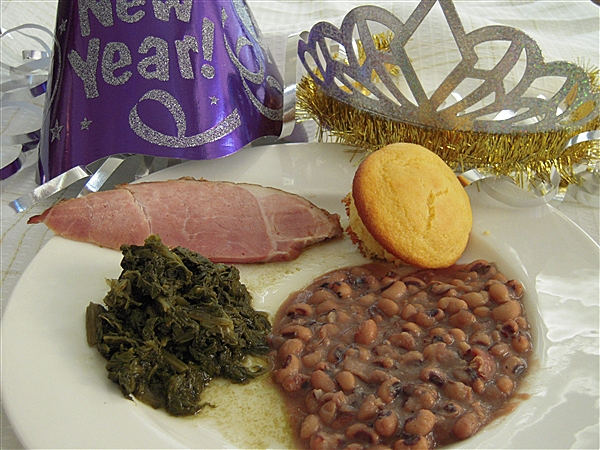 I hope everyone had a safe and Happy New Year! I'm really looking forward to this New Year and all it has to offer. I'll talk about my Resolutions tomorrow.  I'm not thinking too clearly right now. It might have something to do with "Black Eyed Pea Overload"!

~LilSis