January 9, 2009
Not only is hummus not a 'real meal' in this house, neither is soup! I had a new soup recipe planned for Sunday night and SirHoney snuck off to the store and bought three slabs of ribs so he and BigT could have a rib throw-down!  So, I ended up making the soup anyway and we had it as a first course before the ribs, broccoli, and mushrooms.
When I'm making a tortilla soup or any kind of chicken noodle or vegetable, I always boil the chicken, but this time, I sauteed the chicken instead and I really like how it turned out.  This is my version of Chicken Enchilada Soup.
Chicken Enchilada Soup
1 T. Olive Oil
4 skinned, boned chicken breasts, cubed (not too small)
3 T. flour
1 c. low sodium tomato sauce
1/2 c. skim milk
1 32 oz. box organic free range chicken broth (it's lower in sodium)
1 t. fresh ground pepper
1 1/2 t. chili powder
1 t. cumin
1/2 t. salt
1/2 t. garlic powder
Dash of red pepper flakes
1 (15 oz) can petite diced tomatoes
1 c. corn
1 small can chopped green chilies (optional)
1/2 c. – 1 c. grated cheese (I prefer to mix Monterrey jack and cheddar)
1 minced jalapeno pepper (optional)
4 – 6 flour or corn tortillas
Cut tortillas into very thin strips, place on baking sheet and sprinkle with a little chili powder. Bake at 325 degrees for 10 minutes or until crisp, set aside.
Put olive oil in a good size sauce pan (I like to use a 6 quart). Place over medium high heat until hot. Season chicken with fresh ground pepper and add to hot pan.  Saute 5 minutes or so stirring until all chicken is lightly browned. Add flour, and cook, stirring constantly for a minute or two.  Gradually stir in tomato sauce, milk and chicken broth. Stir in chili powder, cumin, salt, garlic powder, and red pepper flakes. (You can adjust these seasonings to taste).
Add diced tomatoes, corn and green chilies. Cover, reduce heat and simmer 15 minutes, stirring occasionally.
To serve, ladle into bowls and top each serving with grated cheese, tortilla strips and, if desired, jalapeno pepper. I think  a spoonful of sour cream on top would be awesome on this soup!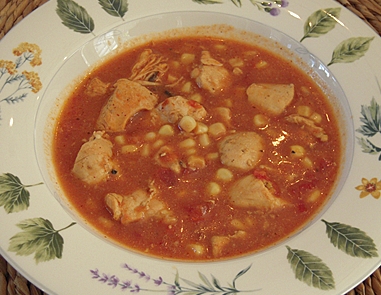 I know, chicken enchiladas don't have corn in them. I just like it in this soup. I'm also one that puts corn in my chili.
I have to say that this soup tastes better than it looks. I didn't have any green chilies on hand, so this soup didn't have chilies. I think the little bit of green color would have jazzed up the photo a bit.
The next day, I noticed that most of the chicken was gone, but that I had enough of the yummy broth and veggies leftover, so I heated that to a boil and added about a cup of large pasta shells. HayHay gobbled that down for his after school snack.

~LilSis