January 11, 2009
I couldn't call this a Sunday Supper since my "meat eating men" wouldn't be satisfied with this for dinner.  So, it's Sunday Snack to enjoy during the San Diego Chargers game today.
This is my 'lower' fat version of BigSis' original recipe. I'm not a big fan of cold pasta salad at all, but I love this recipe. And, I know it seems odd to use angel hair instead of a macaroni or a rotelle, but it just works in this recipe, so I've never tried to change it.  To lower the fat, I cut the amount of olive oil in half.  I also cut the amount of the cheese in half and used 2% cheese instead. And, I used turkey bacon instead of regular bacon.  I also added the capers and chives and used very little mayo. (I don't substitute low fat mayo, though, because I think it's too sweet!)
Angel Hair Pasta Salad
1 (12 oz.) package vermicelli
Juice of one large lemon
1/4 c. olive oil
1 pound turkey bacon, cooked and crumbled
8 oz. smoked ham, julienned
8 oz. grated cheddar cheese (2%)
5 1/2 oz.  jar green olives, sliced
2 or 3 T. capers, to taste
2 or 3 T. snipped chives
Mayonnaise, (maybe 1/4 c.)
Break vermicelli into 2 inch pieces and cook according to package directions. (Be careful not to overcook) Drain. Toss in lemon juice and olive oil and marinate overnight. The next day, add the rest of the ingredients, using just enough mayonnaise to bind it together. Salad is best served at room temperature.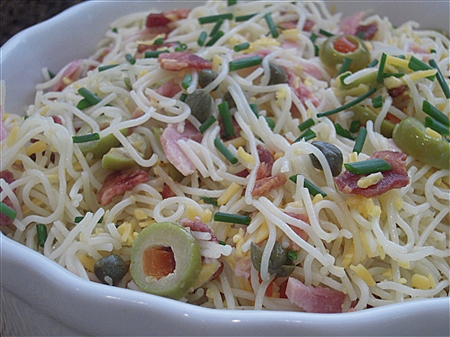 I also whipped up a batch of deviled eggs as another little snack. This recipe is just totally to individual taste. I don't even measure.

Easy Deviled Eggs
Dozen boiled eggs
Mayo
Mustard
Dill Relish
Dill pickle juice
Celery Salt
Paprika
Cut eggs in half. Remove yolks. Mix together yolks with desired amount of the next five ingredients. Fill eggs and sprinkle with paprika.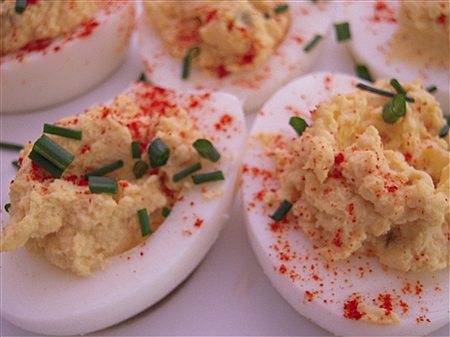 I don't know if these snacks are are really considered "football watching" grub, but they're both so good!  The guys would have been happy with chips and dip and some big greasy burgers!

~LilSis