January 19, 2009
Thanks for the info about the MAC free shipping offer, BigSis! I probably shouldn't order anything this time since I just paid a visit to the MAC counter. (That's going to be a real test of willpower.)
Back to your question about breakfast. Breakfast is my favorite meal of the day and has been for as long as I can remember.  I've never been crazy about pancakes, donuts, or french toast type breakfasts. BUT, if calories and fat grams were not a factor in choosing my favorite breakfast, I'd have to say that it would be something like the huge bacon and cheddar cheese omelet served with crispy shredded hash browns like I got at the restaurant in Vegas on your birthday! (I'm purposely not naming the restaurant since we won't be returning to that hotel.)
Unfortunately, my favorite spot for Sunday Brunch down on the beach in Cardiff had to close it's doors last year. My favorite thing on their menu was a Garden Omelet. It had spinach, asparagus, tomatoes, mushrooms, and just a little provolone cheese in it! That was such a perfect omelet!
So, those are a couple of my favorite breakfasts. Honestly, if I could, I would probably eat a big fat Sausage Egg McMuffin and hash browns from McDonald's every day, but since we are trying to eat healthy, I don't indulge in those!
This may seem pretty boring, but I don't ever get tired of it. During the week at around 6:00, I have either a bowl of nonfat vanilla yogurt with a sliced banana and berries or a bowl of McCann's Irish Oatmeal, sprinkled with a little cinnamon.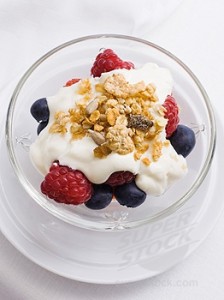 That is followed by my only caffeine of the day, a Diet Rock Star. After a few hours of work and my exercise, I'll usually take a break around 9:30 or 10:00 and have a one egg omelet cooked in just a tad of olive oil for second breakfast.
So, that's it in a nutshell.  And you're right about someone cooking breakfast for you! I love that! It doesn't happen too often around here, but when it does, I definitely enjoy it!
Is anyone already bored with trying to plan a weekly menu of healthy recipes? I know I am. I am trying to change things up a bit and surprise my family with something that they don't have every week or so. Tomorrow, I'm going to share some of my favorite cookbooks that I like to peruse for healthy recipes.

~LilSis