January 23, 2009
While looking for some frozen edamame at the store, I found this Seapoint Farms Organic Veggie Blends with Edamame.
This Veggie Blend contains my favorite green veggies:  broccoli, edamame, green beans, spinach, and asparagus.  I have a hard time finding veggie blends that don't contain some kind of green or red pepper, so I was thrilled to find this.  I couldn't wait to try it, so I threw this recipe together last night.
Most of the time when I spontaneously create a recipe , I never write anything down and I never remember what I did. And, I always regret it if everyone loves the recipe and I know that I can't duplicate it! So, I'm trying harder to take notes.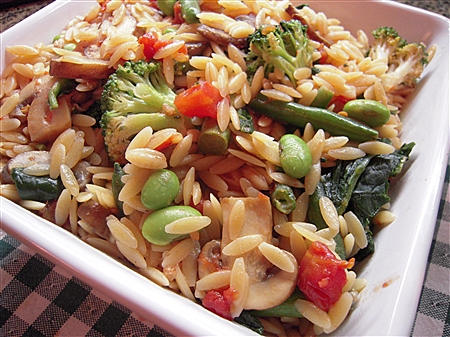 Orzo and Veggie Blends with Edamame

1 T. Olive Oil
1 (8 oz.) pkg. sliced baby bella mushrooms
3 cloves garlic, minced or pressed
1/4 – 1/2 t. crushed red pepper flakes, optional
1/4 c. white wine
1 (14.5 oz.) can petite diced tomatoes
1 (12 0z.) package Veggie Blends with Edamame
1 lb. orzo
salt to taste
Cook the orzo for only 6 -7 minutes, until al dente, drain, add just a little olive oil, stir and cover until ready to add to veggies. (I do this with all my pasta to keep it from sticking together.)
Saute the mushrooms in the olive oil and garlic for five minutes or so. Add the white wine and cook down for another five minutes. Add the tomatoes and the red pepper flakes and simmer until liquids are reduced. (Maybe ten minutes.)
While that is simmering, microwave the veggie blend for 4 minutes in a glass bowl with just a little water added. Drain and set aside. When ready, gradually stir the orzo into the mushroom and tomato mixture, then toss in the cooked veggie blend.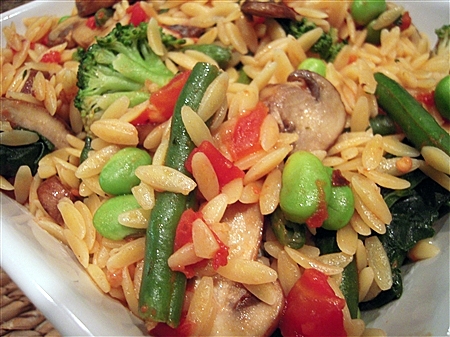 This really did turn out good, so I'm glad I took notes! If I hadn't already planned to serve this with my roasted pork tenderloin, I would have added shrimp while cooking the mushrooms and tomatoes. I'll try that next time! This was really easy and healthy, too!

~LilSis