February 11, 2009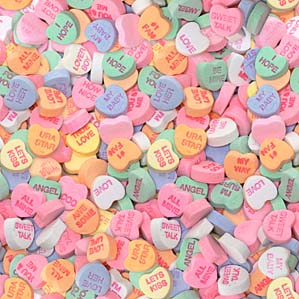 I think Valentines Day is actually more fun for the kids than for us adults! HayHay always loved giving the little boxes of these sweetheart conversation hearts to his friends along with their Valentine card.
It was always so much fun for the kids to address all their Valentine cards and decorate a shoebox or little brown bag to take to school to collect all their treats. I miss those days!
Even when HayHay was too young for school, our neighborhood playgroup hosted some very fun Valentines Day Parties for all the kiddos.  HayHay is too old for that now, but for those of you with the little ones, here are a few ideas.
Whether your hosting your own Valentines Day Party or taking some goodies to a  school party or a friends house, here are a few cute and easy ideas.
Check out this recipe for the Cupid Crispies from Parents.com.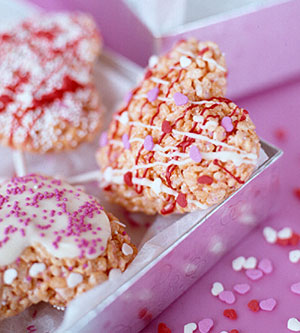 These Passion Pops, also from Parents.com are easy and very cute.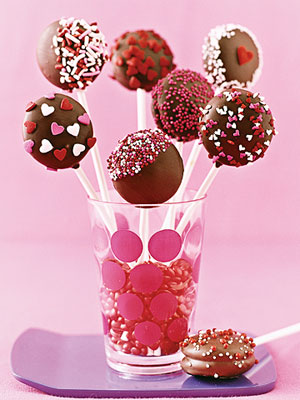 My friend, J, made these adorable pretzel rods for our Race for the Cure bake sale, but they would be perfect for a Valentines Day Party. You could decorate them with more pink and red hearts and pink sprinkles.
Again, these are pretty easy! Just melt the white chocolate squares, dip the pretzel rods into the melted chocolate, and roll in various decorations. It would even be more fun to do this at the party and let the kids decorate their own.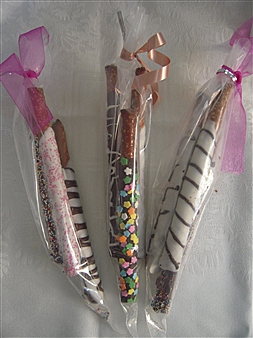 This next photo is a great, easy way to decorate cupcakes for Valentines Day. I've hosted many Valentines parties where we let the kids decorate the cookies at the party. But, since cupcakes are the rage these days, I would do the same with the cupcakes. Just set up a big table with baked cupcakes, icings in red, pink, and white, and loads of different decorations and let the kids decorate their own. Messy? Maybe! But, lots of  fun for the kids!
And, no, there is not a recipe for the cupcakes. I was trying to keep these ideas fast and easy, so, shame on me, I would use a cake mix to make the cupcakes. I didn't feel this was the right place to post a homemade cupcake recipe from Martha. Honestly, the kids couldn't care less if you make them from a mix instead of from scratch.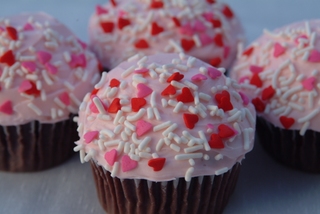 And here are some very cute, very pink cupcakes for those that want to go really pink this Valentines Day. The photo is from OC Moms Blog.  Another great, fun idea for decorating cupcakes.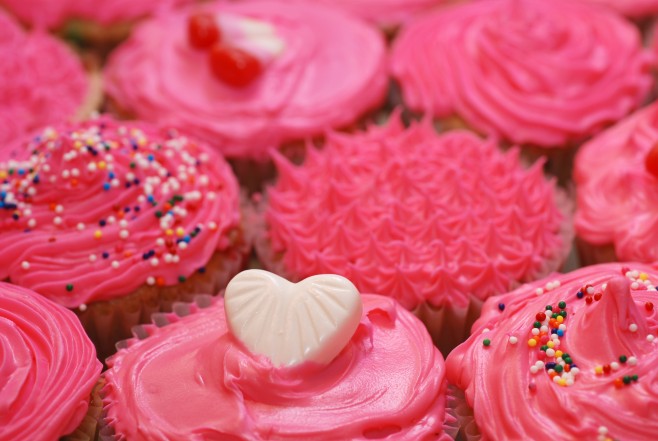 This last treat might be a little more time consuming than the others, but the end result looks like it will be worth it. These Chocolate-Dipped Heart Brownies from The Recipe Girl look like the perfect ending to a perfect Valentines Day Party!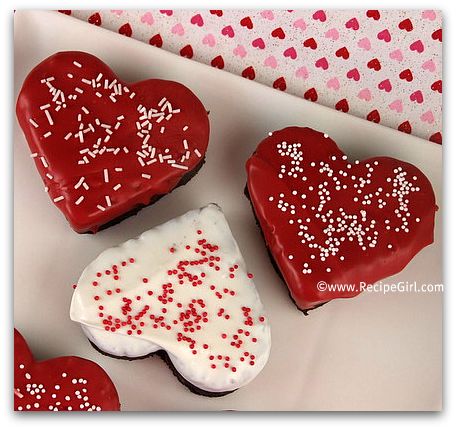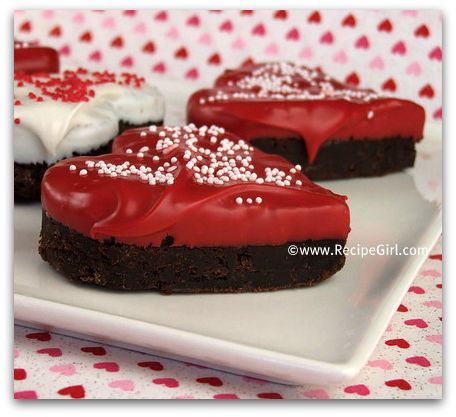 I hope this might give someone an idea or two for a Valentines Day Treat for the kids! Enjoy while your little ones still celebrate Valentines Day by decorating cupcakes and exchanging little cute cards bought at the drugstore. (Those were the days!)


~LilSis