March 3, 2009
I absolutely love breakfast!  During the week, we all have pretty quick breakfasts, but on the weekend, I like to make something a little more special. A great omelet is probably one of my favorite breakfasts.
On Sunday, I decided to make a Frittata, an Italian omelet, for a change. I really wanted to make one with asparagus, but I had spinach on hand, so I used that instead. I started with a basic Frittata recipe from Bon Appetit, but I changed it up a little to suit my taste. I really liked the addition of the Rotel diced tomatoes. And, next time, I'll add mushrooms and maybe some crispy bacon! Overall, I was pretty happy with the way this Frittata turned out.
HayHay couldn't wait for it to cool a little, so this is what it looked like after I cut a slice for him.  Ahhhh! Have I mentioned that I LOVE cheese?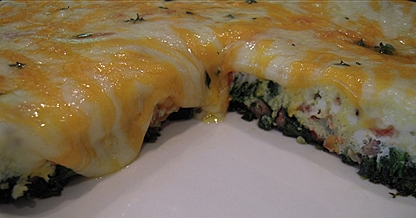 And here's a perfect little slice.  I managed to get a teeny tiny piece while it was warm. I actually wanted a second little piece, but when I returned to the kitchen, the entire thing had disappeared. So, it was definitely a hit with the guys!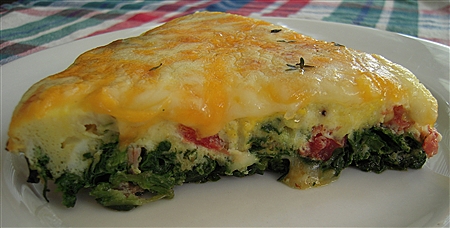 Spinach & Ham Frittata
3 T Olive Oil
1 garlic clove, minced
10 oz. package frozen spinach
4-5 oz. ham, diced
7 eggs
3 or 4 teaspoons Rotel diced tomatoes and green chilis, drained
ground pepper to taste
5 or 6 oz grated cheese (I used Trader Joe's Shredded Three Cheese combo of Cheddar, Monterey Jack and Mozzarella)
Heat oil in heavy medium nonstick skillet over low heat. Add minced garlic and saute about a minute or two. Mix in spinach and diced ham. Add the Rotel tomatoes and chilis on top of the spinach mixture. Whisk eggs, add ground pepper, and pour over spinach mixture. Cover skillet and cook until eggs are almost set, around 8 minutes. Preheat broiler. Sprinkle frittata with the cheese and place under broiler until cheese melts and bubbles, just about a minute or two.  Serve warm.

~LilSis