March 14, 2009
You probably know that it's almost St Patrick's Day, but did you know that it's also Potato Ho Down time too?  I bet you didn't!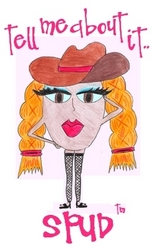 I was thinking about the two events, and two words came to mind:  green potatoes!  That's right, you heard me correctly…green potatoes.  And no green food coloring is involved; just good edible ingredients.
I browsed my cookbook collection for an idea, and thumbed through "Savoring the Day: Recipes and Remedies to Enhance your Natural Rhythms" by Judith Benn Hurley.   It's mostly vegetarian, and a little bit hippy-dippy, but it' a pretty good cookbook, although it's out of print now.  I found one of her lunch recipes called Dilled Potato Pie, which is supposed to be calming.  I figured we could all use more calm, and the recipe fit my criteria of green and potatoes so away I went.  I made a few changes and here's what I came up with.  My entry in this month's Potato Ho Down is Madame Potato Ho Wolfie Lee's Dilled Potato Pie!
Madame Potato Ho Wolfie Lee's Dilled Potato Pie
(adapted from "Savoring the Day" by Judith Benn Hurley)
2 pounds red potatoes, peeled and sliced
1/2 small onion, diced
3 cloves garlic, pressed
3 tablespoons olive oil, divided usage
1/4 cup milk
1-1/2 cups watercress leaves, chopped
1/4 cup fresh Italian flat leaf parsley, chopped
2 tablespoons fresh dill, minced
2 tablespoons fresh chives, snipped
3 eggs, lightly beaten
6 tablespoons shredded Parmesan cheese
Salt and pepper to taste
Preheat the oven to 350 degrees F.
Place the sliced potatoes in a medium saucepan and cover with cold water.  Add a big dash of salt, and boil until completely tender, about 15 minutes, depending on how thick the slices are.  While the potatoes are cooking, saute the onion and pressed garlic in a tablespoon of olive oil until translucent.
When the potatoes are tender, drain them and add them to a large bowl.  Mash them with the milk and 2 tablespoons olive oil.  Add the cooked onions and garlic, watercress, parsley, dill, chives, eggs, parmesan, salt and pepper. Mix until well combined.
Spray a pie dish with non-stick spray, and spoon the potato mixture evenly into the dish, smoothing the top.  Bake until hot throughout and beginning to brown, about 40-45 minutes.   Serve hot with pesto or a pat of butter.
I have to say I was skeptical about this recipe…I was afraid it would be too bland, or just look too "Kermit-the-Frog-in-a-blender".  Sorry for that visual, Kermie fans.  I'm a fairly adventurous cook though, so I plowed through and resisted the temptation to substitute spinach for the watercress.  The only time I've ever had watercress was raw in the vegetarian chef salad at Cafe Express; I've never had it cooked or even bought it fresh.  I was very pleasantly surprised though.  I didn't get a watercress flavor at all.  All of the flavors blended together very harmoniously, but mildly.
The pie was really delicious!  I liked it with a pat of real butter on top (you are dealing with mashed potatoes, after all), but it was equally good with a drizzle of pesto over it or sitting in a pool of pesto with more parmesan sprinkled around.  I think this recipe could be modified to accommodate any flavors you like: different cheeses, adding hot sauce, or substituting other herbs.  You could also play with adding other vegetables to the potatoes, including spinach, broccoli, asparagus, corn, whatever you like!  But do try the watercress!  And do remember it for your St Patrick's Day menu if you need an unusual side dish.
See the complete collection of March's Potato Ho Down dishes hosted by Evil Chef Mom on March 18th.  For more info on the monthly Potato Ho event, get the scoop at Noble Pig.  And don't be afraid of eating green potatoes!

~BigSis