March 15, 2009
As long as we're talking about potatoes and St. Patrick's Day, I decided to do one more Irish recipe before the holiday.  I'm making the Ham and Potato Pancakes that I just discussed in my St. Patrick's Day Party Ideas post a few days ago. This comes from a little cookbook called Irish Food, Fun, and Crafts.
And, yes, I too am entering my recipe into the Potato Ho Down being hosted this month by Evil Chef Mom.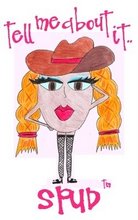 To participate in this fun event hosted the third Wednesday of each month, each entry must have a Potato Ho name. Since this is my first time to submit an entry, I'm making a big deal about announcing my Potato Ho name!
Drum roll, please… My Potato Ho name is Madame Potato Ho Frosty Gay. (And no, I didn't just pull that out of a hat. There is a method to the madness.) You can read all the rules about this monthly blogging event on Potato Ho Down or on Noble Pig.
Now, for Madame Potato Ho Frosty Gay's recipe.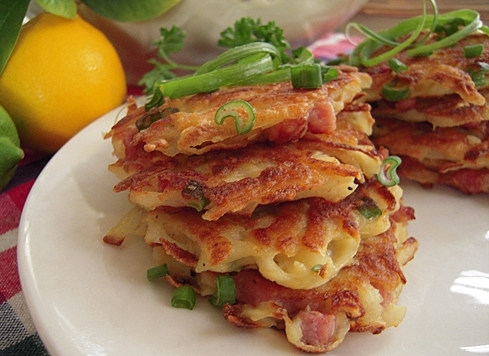 Madame Potato Ho Frosty Gay Ham and Potato Pancakes
3/4 pound Yukon gold potatoes, peeled, grated, and squeezed dry (about 2 cups)
1/4 cup finely chopped green onions, green parts only
2 eggs, beaten
1 cup finely chopped cooked ham (4 -5 ounces)
1/4 cup all-purpose flour
1/4 t. salt
1/4 t. pepper
2 -3 T. vegetable oil
First, combine grated potatoes, green onions, and eggs in large bowl, mix well.  Add ham, flour, salt, and pepper; mix well.
Heat 2 T. oil in large heavy bottomed skillet. Drop batter by heaping tablespoonfuls and press with back of spoon to flatten. Cook over medium-high heat 2 to 3 minutes per side.
Remove to paper towels to drain. Add remaining 1 T. of oil, if necessary, to cook remaining batter. Serve pancakes warm.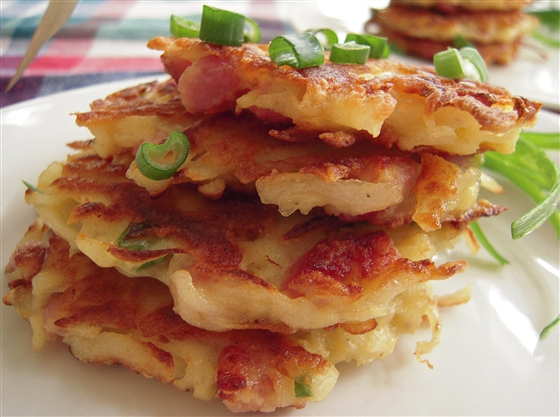 This is an easy recipe and the pancakes turned out really nice. It's a great little appetizer to serve at your St. Patrick's Day Party. And, my family loved them for breakfast. I made SirHoney one the size of the skillet!
Don't forget to check Evil Chef Mom's site on Wednesday, March 18th for the complete March Potato Ho Down Roundup!

~LilSis