March 19, 2009
I hope you remembered to visit Evil Chef Mom yesterday to check out this month's Potato Ho Down roundup. In case you missed it, her "As the Potato Peels…The Western Episode" is a fun and creative story showcasing all of this month's Potato Ho Down entries.  Check it out!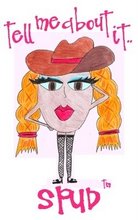 BigSis and I were so happy that Madame Potato Ho Sparkey Marie and Madame Potato Ho Christina Shane let us join their Ho Down! The fun monthly blogging event was founded by Krysta of Evil Chef Mom and Cathy of Noble Pig.  We love both of their blogs!
Thanks to both of you for letting us join your fun!

~LilSis