March 29, 2009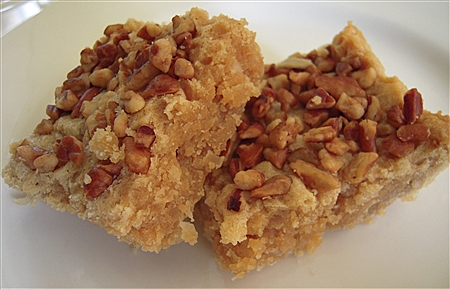 I saw this Peanut Butter Coconut Bar recipe on Cookie Madness recently and I thought it sounded interesting. I love coconut and I love peanut butter, so why not put them together? It's a combination that I haven't seen in too many recipes.
I'm not always successful at my baking attempts, but I'm not ready to give up on trying to become a better baker (yet) !  I do, however, try to find recipes that aren't too complicated. This one seemed pretty easy so I decided to give it a try.
Anna said that she felt the bars were a little dry so I asked her what she would change if she were to make them again. She made a few suggestions. First of all, I did take her advice to start off by making a half batch to make sure everyone liked them.
I cut the recipe in half, but still used the one egg that was in the original recipe. Anna had suggested possibly adding an extra egg yolk to help moisten the bars, so I didn't think it could hurt to use the whole egg. (I got lucky and it worked out fine.) I also added 1 T. of Coconut Milk and used chopped pecans on top of the bars instead of peanuts.
These really did turn out good! They were rich and moist and almost a cross between a blondie and a peanut butter cookie, with a little surprise of coconut.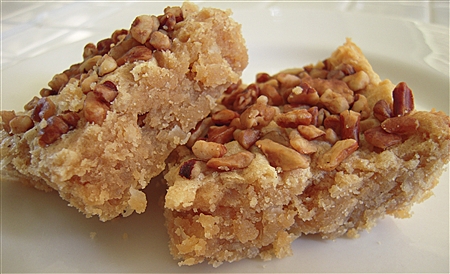 Peanut Butter Coconut Bars
(adapted from Gourmet via Cookie Madness)

6 T. unsalted butter, softened
1/2 c. sugar
1/2 c. smooth peanut butter
1 large egg
1/2 t. vanilla
1 T. coconut milk
1/4 t. salt
1 c. all-purpose flour
1 c. sweetened flaked coconut
1/4 c. chopped pecans
In a bowl with an electric mixer, cream the butter with the sugar and beat until the mixture is light and fluffy. Add the peanut butter, beat the mixture until it is combined well, and beat in the egg, the vanilla, the coconut milk, and the salt. Add the flour, beat the mixture until it is just combined, and stir in the coconut. Spread the mixture evenly into a buttered pan (for this half batch, I used an 8 x 8 pan). Sprinkle the pecans over it, pressing them into the mixture lightly, and bake in the middle rack of a preheated 350 degree oven for 20 minutes, or until a tester comes out clean. Let the mixture cool completely in the pan on a rack, then cut into bars.
Thanks for the recipe and the suggestions, Anna! Now, does anyone have any ideas on what to do with an entire can of coconut milk?

~LilSis