April 7, 2009
Thanks for all those links for great Easter Baking ideas, BigSis. And you're right when you say they're from brilliant minds. Your list includes some of my most favorite food blogs! I'm consistently impressed by their amazing talent!
Since you and SisMama will be here in CA for Easter, maybe my guys will persuade you to bake something sweet for them. You know how deprived they are!
I haven't even had time to think about the Easter Dinner Menu yet, so I think I'm going to leave the dessert up to you!  I do LOVE Easter Bunny Cakes, though.  I've always remembered that one year when my birthday actually fell on Easter and SisMama made me a fabulous Easter Bunny Birthday Cake. I was probably only 7 or 8 years old but I've never forgotten it!
This Easter Bunny Cake from Betty Crocker is really cute.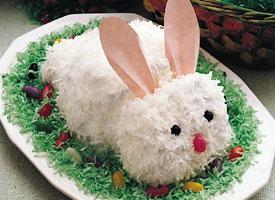 Wanna make me one for my birthday? Pretty please? It's so cute!

~LilSis