May 3, 2009
BigSis and I had hoped that BigT could make his Jalapeno Poppers for our Cinco de Mayo appetizer. He would have loved to make these for us, but he moved out of our hacienda on May 1st (again; fingers crossed) so he was very busy getting situated this weekend.
Recently, BigT and I went to one of our favorite Mexican Food dives for lunch.  I ordered my favorite ground beef crispy quesadilla. It's really more like a humongous nacho because all the amazing cheese and meat are on top of one crispy tortilla and broiled until bubbly and golden brown. (I obviously wasn't being too disciplined.)
But BigT was being very disciplined, so he ordered the ceviche. I NEVER would have ordered ceviche from that particular restaurant, but I tried a few bites of his and it was really good. In their particular recipe, they used a white fish. We're going to use Ahi tuna for ours.
I have made a gazillion appetizers over the years but I have to admit, I was always a little afraid of ceviche. Luckily, since living here in CA, we've ventured outside our little box. We've actually been eating Sashimi Tartare and Carpaccio!
This ceviche recipe is a pretty traditional version, except that the fish in Mexico would likely be mackerel or kingfish, it would typically be marinated long enough to cook through and it would be served in a glass bowl or on a tostada. I really like serving this on the bed of butter lettuce.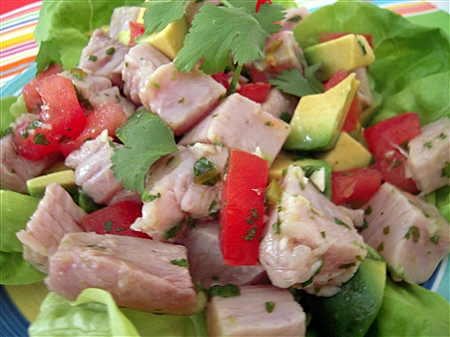 Ceviche Salad with Avocado, Cilantro and Green Chile
(adapted from Rick Bayless Mexican Everyday)
1 cup fresh lime juice
2 garlic cloves, peeled and roughly chopped
1 cup (loosely packed) roughly chopped cilantro
Fresh green chiles to taste, stemmed and roughly chopped
(I only used one Serrano and roasted it before peeling and chopping)
Salt, to taste
1 1/4 pound sashimi-grade boneless, skinless fish (I used Ahi)
1 ripe avocado, cut into 1/4 inch cubes
1 diced tomato
1 large head butter lettuce
In a blender or food processor, combine the lime juice, garlic, cilantro, chiles and 1 tsp salt. Process until smooth.
Put the diced fish into a large bowl. Pour the lime marinade over it and let it "cook" in the lime juice to suit your own taste: you can eat it right away (Peruvian-style) if you like raw fish, or let it "cook" for an hour or two if you like it more well-done. It takes about four hours to "cook" fish well-done in lime juice; if that is your desire, add the cilantro, chopped, just before serving to preserve its fresh color.
Pour off half the marinating liquid and set aside. Toss the avocado and the tomato with the fish, then taste and season with additional salt if you think necessary.
Divide the lettuce among four dinner plates. Scoop a portion of the ceviche into the center of each arrangement. Sprinkle with a little chopped cilantro, drizzle some of the reserved lime marinade over the salad and you're ready to serve.
I marinated mine for exactly two hours and the fish was perfect!  If you really do not like the idea of semi-rare fish, marinate for the full four hours OR you can substitute 1 pound of cooked shrimp. In that case, you would only marinate the shrimp for a few minutes to soak up the flavors.
If you've never made ceviche, maybe this has inspired you to give it a try this Cinco de Mayo!

~LilSis