May 14, 2009
We had so much fun doing our Pink Potatotini for the April Potato Ho Down! It's not every day that we make pink potatoes!
I prefer either red, yellow, or purple potatoes over the russet potatoes, as was called for in this original recipe. I usually buy the 2 lb. Potato Medley from Trader Joe's that has just the right amount of each variety. Normally, I just cut them into quarters and roast with gobs of olive oil, garlic, and rosemary.  I decided to try something different this time.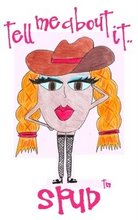 And, yes, you guessed it! This recipe is my entry for the May Potato Ho Down, which is being hosted by the one and only, Noble Pig, who is one of the creators of this fun event.
To see the complete roundup of recipes from all the Potato Hos, be sure to visit Noble Pig on Wednesday, May 20th!
I should have changed the name of this recipe to Roasted Potato Slices with a Garlicky, Garlic-Rosemary Crust, because I think I tripled the amount of garlic that the original recipe called for. I found this recipe in a Williams-Sonoma Potato Cookbook. (This edition was published by Simon & Schuster.)
These potatoes were yummy! HayHay was thrilled to come home from school to a house smelling of roasted potatoes, garlic and rosemary.  They were planned as a side for dinner, but ended up being his after school snack instead! Yes, all of them! (okay…I had a couple.)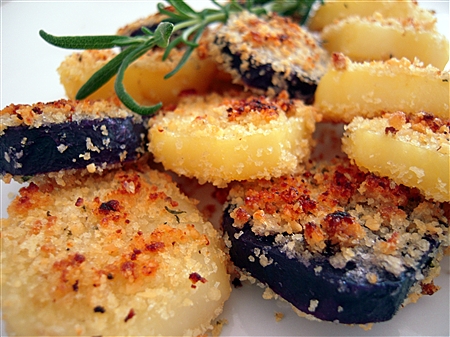 Roasted Potato Slices with a Rosemary-Garlic Crust
(adapted from Williams-Sonoma "Potato")

Kosher salt and fresh ground pepper
2 lbs. of mixed red, yellow, and purple potatoes
2-3 T. Olive Oil
1 T. minced fresh rosemary, plus sprigs for garnish
3 large garlic cloves, minced (original recipe called for 1 T. minced)
1 T. Dijon mustard
1 1/2 c. fresh sourdough bread crumbs
1/2 c. firmly packed Parmesan cheese
1 large egg white, beaten until foamy
In a large pot of salted boiling water, cook the unpeeled whole potatoes until just tender when pierced with a small knife, about 20 minutes. Drain and let cool, then refrigerate until cold, at least 2-3 hours or up to 1 day. Peel the potatoes and cut them lengthwise into slices 1/2 inch thick. Use the center slices from each potato. (Reserve remaining slices for another use.)
Preheat the oven to 400 degrees. Spread a T. of olive oil on a baking sheet, or use nonstick vegetable oil cooking spray, if preferred.
In a heavy frying pan, heat 2 T. of olive oil over medium-low heat. Add the minced rosemary and garlic, cover, and cook until the garlic is softened but not brown, about a minute or two. Stir in the mustard, 1/2 t. kosher salt, and 1/2 t. pepper and remove from the heat. Add the bread crumbs and toss until evenly coated. Stir in the cheese.
Arrange the potato slices on a work surface. Brush the tops generously with the egg white. Spread approximately 1 T. of the crumb mixture on each slice and press to adhere and cover evenly. Place the slices, coated side down, on the prepared baking sheet. Brush the uncoated sides with the egg white. Spread the remaining crumb mixture on the slices, pressing to adhere.
Bake the potato slices until the coating on the bottom is crusty, about 8 – 10 minutes. Carefully slide a thin metal spatula under each slice and turn it over. Bake until brown on the second side, about 5 – 6 minutes longer. Transfer the potato slices to a platter, garnish with rosemary sprigs, if desired, and serve.
Here's a glance at a serving without the purple potatoes, just in case you're not a fan of purple potatoes. But I LOVE purple potatoes. I'm not sure if it's true that they are better for you, but at least I feel less guilty eating them.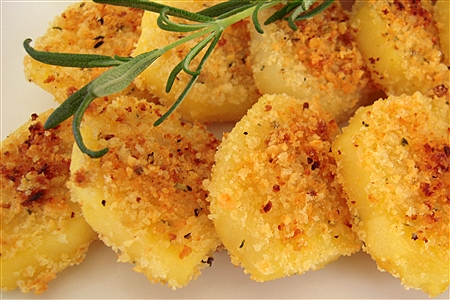 Again, these potatoes were really good, but a little messy trying to get the crust to stick properly to each side of the potato slice.  The crust was absolutely excellent! Better than I expected. I never would have thought to add dijon mustard, but it added so much flavor, combined with the garlic, cheese, and rosemary. What's not to love?
I'm already thinking of different ways to use this crust. I'm sure it would be great on top of some crispy potato skins! That way, you wouldn't have to worry about flipping the taters! Enjoy!

~LilSis