May 17, 2009
It seems like just last week that LilSis and I had so much good pink fun with our Pink Potatotini.  It's time already for the next Potato Ho Down, hosted this month by the creator of this fun event, Noble Pig!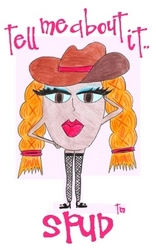 When the weather warms up, I think of cool salads and I love a good potato salad.  Our family's classic potato recipe is really good, but this potato salad with a twist caught my eye in a Williams Sonoma cookbook called "Potatoes", which isn't the same one LilSis cooked from this month.  I made a few substitutions to make this a little lower in fat.  Next time, I'll boost up the amount of basil in the pesto, and add more garlic.
Sun-Dried Tomato Pesto
(adapted from Williams Sonoma's "Potatoes")
1 large clove garlic
1/2 cup sun-dried tomatoes packed in olive oil, drained
2 Tblsp fresh basil
1/4 tsp salt
1/8 tsp pepper
2 Tblsp olive oil
2 to 4 Tblsp hot water
In a small food processor, mix the garlic, tomatoes, basil, salt, pepper and olive oil until a thick paste forms.  If needed, add water, 1 tablespoon at a time, to reach the desired consistency.
Sun-Dried Tomato Cream Potato Salad
(adapted from Williams Sonoma's "Potatoes")

2-1/2 lb small red potatoes
For the dressing:
1 7 oz container 2% Greek Yogurt
4 Tblsp sun-dried tomato pesto
1 tsp balsamic vinegar
1 Tblsp white wine vinegar
2 tsp mustard
2 Tblsp olive oil
2 Tblsp dill relish or capers
2 Tblsp chives, minced
Salt and pepper to taste
Cook the unpeeled potatoes in salted water until just done; don't overcook.  Drain and let cool slightly. Slip the skins off the potatoes or leave them on, depending on your preference.  Cut the potatoes into large bite size pieces, and salt lightly while warm.  Set aside and make the dressing.
Combine all of the dressing ingredients together in a small bowl.  Toss with the potatoes and adjust the seasonings.  Potatoes absorb salt, so more salt may be needed.
Refrigerate for an hour or two to blend the flavors.
This potato salad was really good!  I'm not one to eat a whole big pile of potatoes of any kind, so I served a small amount of the salad on a bed of baby spinach, with lots of grape tomatoes, a drizzle of low fat balsamic vinaigrette and a sprinkle of parmesan cheese. It made for a very delicious, and very summery lunch!  Give this a try for Memorial Day!

~BigSis