May 20, 2009
Round 'em up! Yep; you guessed it! Believe it or not, it's already time for the May Potato Ho Down Roundup! This month's Roundup is being hosted by the one and only Cathy, of Noble Pig.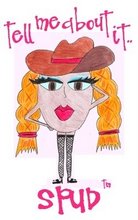 For the May Ho Down, Potato Ho, Frosty Gay entered her crispy Roasted Potato Slices with a Rosemary-Garlic Crust.  Potato Ho, Wolfie Lee submitted a very interesting Sun-Dried Tomato Cream Potato Salad.
We both LOVE potatoes; which is why we initially wanted to become Potato Hos!  We're having a blast participating in this fun monthly blogging event created by Krysta of Evil Chef Mom and Cathy of Noble Pig.
There are so many fantastic recipes in this month's Roundup, so be sure to check it out! And if you decide you would like to participate, check out the complete rules for this event here at Potato Ho Down.

~LilSis