June 3, 2009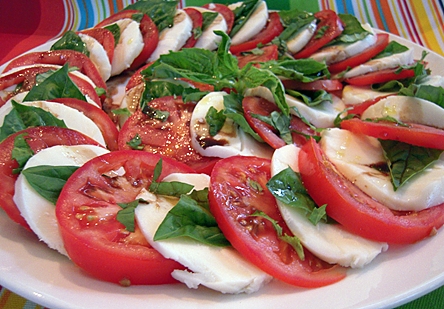 One of the many things I love about this time of the year is the amazing fresh produce. One of my most favorite salads to serve either as an appetizer or as a side salad is this Insalata ala Caprese.
We had a few friends over for dinner this past Friday night and I had some great tomatoes and loads of fresh basil, so it was a 'no brainer' when deciding what to serve as an appetizer. This is always a real crowd-pleaser! But, seriously, how can you go wrong with fresh tomatoes, fresh mozzarella, and fresh basil?
I just can't get enough of this salad! Unfortunately, this is a little bit of a splurge when you use the full fat fresh mozzarella. (Unless you're disciplined enough to keep it to a slice or two of cheese, which I am NOT.) I've made it using the lower fat mozzarella and it's fine, but not quite as good, so I always use the fresh mozzarella when we have guests.
We had eight people and these were the quantities that I used, but obviously, you can modify easily enough for more or less servings.
Insalata ala Caprese
5 medium size fresh tomatoes, sliced
1 1/2 lbs. fresh mozzarella, drained and sliced
fresh basil leaves
1-2 T olive oil
1-2 T. balsamic vinegar
Dash of sea salt
Layer the tomatoes, basil leaves, and mozzarella on a serving platter. Drizzle with the olive oil and the balsamic vinegar, to taste. I also julienne a few basil leaves to sprinkle on the top and put a sprig in the center. Top off with a grind or two of sea salt, if desired.
I've made several different versions of this recipe. It's excellent if you have a variety of tomatoes. I've made it with a combination of yellow, orange, and red tomatoes and it turns out gorgeous. Also, if you don't care for the balsamic vinegar, just use a little lemon juice instead.
Buon appetito!

~LilSis