June 4, 2009
If you're from Texas, you've no doubt heard of Canton First Monday Trade Days.  It's a once-a-month ginormous flea market that pretty much dominates the whole town.  I've been a bunch of times, but SisMama had never been so BDot and I took SisMama and her sister C to the spectacle last weekend.  We were really pushing it weather-wise though.  The temp got up into the low 90s so we were literally sweating our butts off since we were there for 6 hours!  PS, the butts grew back.  Rats!
We did find some cool things, as is always the case with Canton!  C and I each bought a really pretty hummingbird feeder from Sweet B & B Hummingbird Feeders.  They're a super-nice couple who make these feeders out of copper, and sell them through their web site and at markets.  I love being able to support what folks like B & B (Beau and Becky) are doing, rather than running to the WallyMart to buy every little thing.  I bought this cute feeder that I have sucked onto my patio window, so that hopefully the kitties can see some birds up close!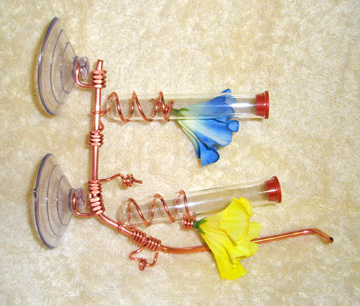 So far, no diners have come to eat, but it's only been a few days. I have a long red ribbon dangling from the feeder, and I'm going to get a pot of brightly colored flowers for the patio this weekend.  If any of you have suggestions on how to attract hummingbirds, please let me know!
BDot and I got something else unusual, that I totally DID NOT need. It's all BDot's fault since he tempted me with this product that he's gotten before at Canton.  It's called Pecan Honey Butter, and it's so wicked delicious!  It came from East Texas Gourmet Foods, and I'm happy to see that they have online ordering too.  Just for gift ordering, you know.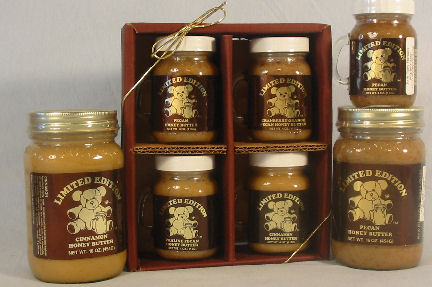 I never said this stuff was healthy…it's totally a naughty treat, but we all need a touch of that from time to time!  Besides the Pecan Honey Butter, they also have Cinnamon, Praline, Apple Spice, Amaretto Pecan, Apricot Orange, Raspberry Pecan, and Cranberry Orange Pecan flavors.  I tried the Praline and Cinnamon varieties and loved them both too.  I SO want to spread a blob of this on a hot biscuit.  Do you think that would be bad for my cellulite?  Surely not!
If you get the chance, check out this Texas extravaganza.  But take my advice, and don't go in the heat of the summer.  You'll be miserable!  Go in the spring or the fall, and enjoy the mad fun!  Meanwhile, check out the hummingbird feeders and the honey butters online.

~BigSis