June 6, 2009
When I was about 10 years old, a peach almost killed me.  Yep, a sweet, juicy, fuzzy little peach was nearly the end of me!  I was spending part of the summer in West Texas with my grandparents as usual, and had been eating juicy fresh peaches as usual.  My grandmother made awesome peach fried pies and incredible spiced pickled peaches with cloves.  She had peach trees in the backyard and made great use of them.
So, one nice summer day, I went to my cousins' house for a visit.  I can remember sitting on a swing in their backyard, eating a fresh peach.  I can remember getting itchy, then starting to wheeze, and then getting swollen all over.  By the time I got into the house, I passed out, and then drifted in and out of consciousness for what seemed like hours before they took me to the emergency room to be pumped full of benadryl and adrenalin.
Since I grew up to be BigSis, clearly I survived that attack of anaphylactic shock.  My body just had enough of peaches, and said it wished to have no more of them, please.  When I heard that this month's You Want Pies with That event would have a Childhood Memories theme, those peachy memories came back to me.  My whole family has mouth-watering and sentimental memories of Grandmama's fried pies, although I obviously can't make her peach ones.  In her honor, I decided to make cherry fried pies, for my first time ever.
I don't have my own recipe for these little jewels, so I found recipes online for pie pastry and cherry pie filling that both sounded delicious and got 5 star reviews.  And being a bake-from-scratch snob, I was definitely not interested in using flattened biscuits with canned pie filling.  I did have one little complication right off the bat, which was that the filling was surprisingly too juicy for little fried pies, so I revised my plan a bit and made a whole pie.  No biggie, just a little adjustment.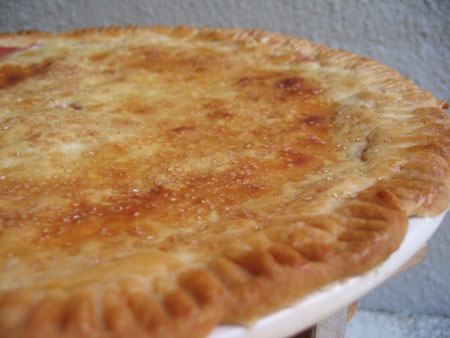 Looks pretty good, right?  I was kind of happy with the golden brownness, and was feeling a little proud of myself since I love to bake, but I'm not a pie maker.  It intimidates me and intrigues me at the same time.  But so far, so good.  I cut into the pie, and still found more juice than I really wanted, but no worries!  It's yummy cherry juice, so it's all good!  And I thought the slice on the plate looked pretty tasty!  What do you think?  Not so bad for a novice pie girl.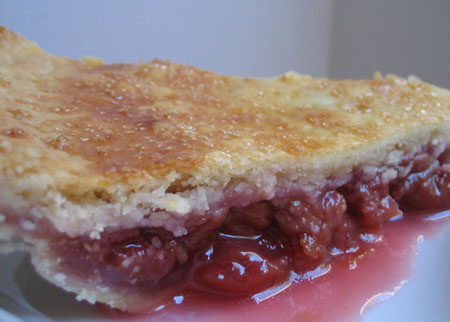 The next test…take a bite!  I took a bite, and took another bite, and took another bite.  Guess what?  It was HORRIBLE!!  Not just bad.  Not just "oh, you're so overly critical of your own baking".  No.  It was DISGUSTING!  It's actually in my sink at this moment, crumpled in bits and pieces, awaiting it's little trip down the garbage disposal.  THAT bad.
What could be so bad, you say?  Well, the pastry was not flaky and light.  It was the polar opposite: heavy and soggy on the top and bottom.  The juice soaked into it and just made yukky mush.  Even though I baked it the recommended amount of time, I don't think the bottom crust was even done.  Bleh.  On top of that, the pastry's flavor was just off and weird.  The tiny bit of almond extract in the filling was grossly overwhelming and the filling was WAY too liquidy.  Altogether, it was so nasty that not even HayHay-the-15-Year-Old-Eating-Machine would touch it.  I would be ashamed to offer it to him or anyone else.
So, why do I bother posting on this disaster?  Cause it's pretty damn funny to me!  It's hilarious, in fact.  I make such a big ding dang deal out of baking from scratch, and then I have a catastrophe of Titanic proportions like this, and it just cracks me up.  One thing I don't do is take myself too seriously, and it's a good thing!  Plus, you can't try anything new if you're too afraid to fail.  Chances are I'll have lots more beautiful disasters on my way to successful pastry baking!
Next time, I'll try to do you proud, Grandmama!  I'm not giving up!  Meanwhile, please visit You Want Pies With That on June 8th to see the work of successful pie bakers!  I'm off to the grocery store for biscuits and canned pie filling.

~BigSis