June 16, 2009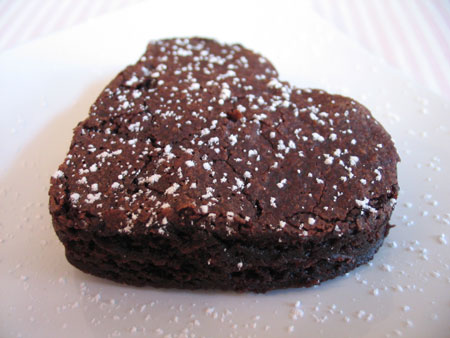 Have you heard about these new mixes for fat-free brownies called No Pudge?  All you add is non-fat vanilla yogurt. Since I fessed up to being a bake-from-scratch snob, but then had a raving disaster with my homemade cherry pie, I figure I'm obligated to humble myself and try some mixes.  I've heard that these brownies are good, but I'm so skeptical!  A brownie with no butter?  And it's supposed to be worth eating?  I say prove it!
I bought a box of the original flavor of No Pudge at Central Market for $4.59.  They also have mint, raspberry and cappuccino varieties but I wanted to start off with the basic chocolate.  The nutritional label says each brownie has 110 calories, 0 grams of fat, and 22 grams of sugar (!).
The No Pudge brownies couldn't be easier to make.  You add 2/3 cup of non-fat vanilla yogurt to the mix, which includes sugar, flour, cocoa, egg whites, cornstarch, wheat gluten, salt and baking soda.  You mix the yogurt in thoroughly and smooth it into an 8″ square pan.  The instructions say to bake for 30 to 35 minutes, but I only had a 9″ pan, so I baked for closer to 25 minutes.
After chilling overnight, I took these to work for an informal taste test and these are the results:
Everyone agreed that the flavor was very chocolaty, and two people thought you couldn't tell the difference between these and a full-fat brownie. I could tell!
The consistency was very fudgy and pretty gooey.  I wonder if I underbaked these, and if they would be less gooey with more baking time, although they tested done and I hate to overbake brownies.  I'd rather slightly underbake than overbake.
My opinion was that the texture was a tad spongy and gooey at the same time.  I also thought the first note on my tongue was sugar, which makes sense since non-fat baked goods usually compensate with extra sugar.  I could totally tell that something was amiss with these little guys, although the chocolate fix was there.
Would I bake these again?  Nah.  I'd rather have half of a Barefoot Contessa Outrageous Brownie than several of these.  It was a fun experiment, but that's just how I roll.  I have to say that I like that there aren't a bunch of artificial ingredients and sweeteners in these brownies, but I'm not really into non-fat versions of real food.  Perfect examples are the grossness of non-fat mayo and non-fat cheese.  Blecch.
I can see these "brownies" being served at a baby shower or spa party hosted by one of the "ladies who lunch" in Dallas.  I imagine they'd be cut into 1/2″ squares.  Give me a regular brownie, even if it means more time on the treadmill!
Oh, and P.S.  My camera is on the critical list, so these craptastic photos may be the last you see from it!  I took well over 100 photos to even get a couple that were usable.  If you love your camera, please send me your recommendation of any models I should look at!

~BigSis