June 17, 2009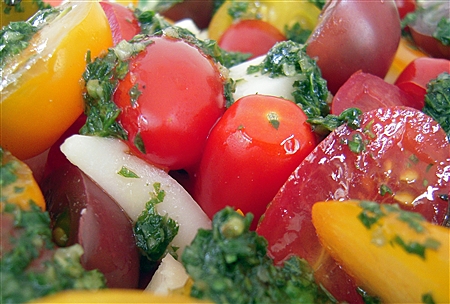 This is one combination of ingredients that I can't seem to get enough of:  tomatoes, basil, mozzarella, and garlic!  We're lucky here in Southern California to have great produce practically year round, but if you happen to live somewhere else, hopefully you're able to get them now that Summer is right around the corner. I found this great medley of small heirloom tomatoes at Trader Joe's.
Recently, I talked about my love for Insalata alla Caprese. The ingredients in this salad are very similar, but just served differently. So, if you love Caprese, I guarantee that you'll love this salad!
It's quick and easy, so it's perfect to take to a neighborhood cookout or to a friend's house for a cocktail party.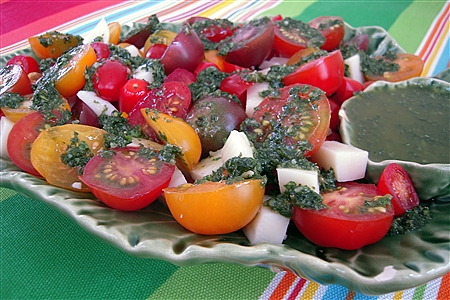 I found the original recipe for this dressing in the June 2009 issue of Food & Wine. It was featured in an article called "best 5-minute dressings". The original recipe didn't include the mozzarella cheese, but I couldn't imagine this salad without it. I think I also doubled the garlic and the olive oil. This is my version.
Heirloom Tomato Salad with Basil Vinaigrette
(adapted from June 2009 issue Food & Wine)
1 lb. small heirloom tomatoes, sliced in half
2 garlic cloves
pinch of crushed red pepper
1 cup packed basil leaves, coarsely chopped
1/2 c. extra-virgin olive oil
2 T. Champagne vinegar
1/4 lb mozzarella, diced into cubes
Fresh ground pepper, to taste
Coarse salt, to taste
Season the tomatoes with salt and pepper, arrange on serving platter and sit aside.
I don't like the bite of raw garlic in a dressing, so I pressed the garlic cloves into a small pan and sauteed them in a tablespoon or so of the olive oil just until a little soft. I then added the crushed red pepper flakes to the oil and garlic and sauteed for just another minute or so.
Put the basil in the food processor and pulse until finely chopped. Add the oil, vinegar, the garlic and the crushed red pepper and process until smooth. Toss in a bowl and add cubed mozzarella. Season with salt and pepper. Pour on top of the tomatoes and serve!
I think this tomato salad would also be great served on top of a plate of baby lettuce.
I have to use this beautiful bunch of basil soon, so…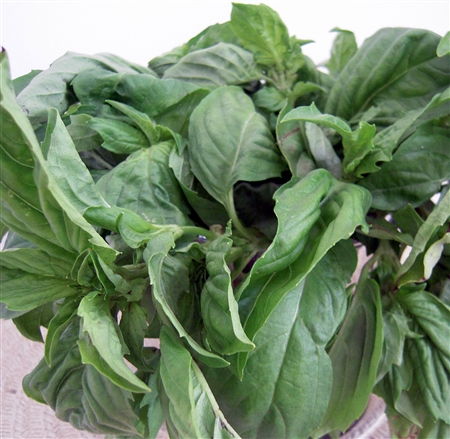 some time in the next few days, I'll be sharing with you yet another great recipe that includes these fantastic ingredients!
I hope you love them as much as I do!

~LilSis