June 22, 2009
BigSis has talked about how much she loves the Urban Decay Primer Potion. Okay, she actually raves about how well this product helps her eyeshadow stay on all day. I've been pretty happy with my MAC Prep + Prime and have just never gotten around to buying the Primer Potion.
I LOVE shimmery, frosty shadows on my lids, so when I read these great reviews on Sephora about the new Urban Decay Primer Potion-Sin, I knew that I had to try it.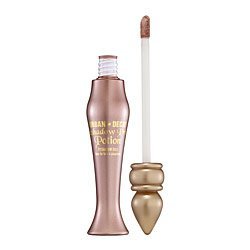 The shimmering champagne hue in this product really compliments the frosty MAC shadows that I love to wear on my lids. I love it under Grand Entrance, Wintersky, and French Cuff, but don't rush out to buy any of those colors because they're all discontinued. Dang it! I don't know what I'm going to do when I run out of those colors. I guess I'll have to visit the MAC counter and find some new favorites.
Back to the Primer Potion. Not only does it make the shadows stay on the entire day, but it adds just a little extra shimmer. This is even pretty worn alone for just a little tint or under your brow for a little highlighter.
You know we both LOVE our MAC shadows and they are definitely great on their own and do stay on for most of the day. But, if you need just a little extra assurance that your shadow will last from morning to night, give this Urban Decay Primer Potion a try, either the original if you want a clear primer, or in Sin for some shimmer.
I think you'll agree that this product really does make a difference.

~LilSis