August 11, 2009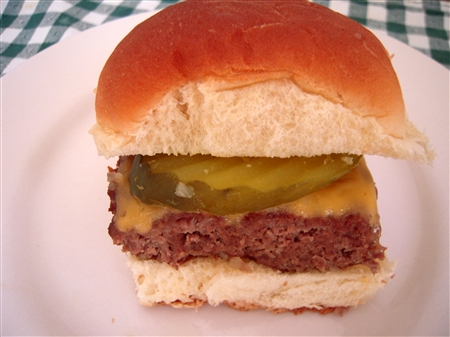 Hay Hay was a little disappointed that we didn't make time to get him some White Castle Burgers on our recent trip to Chicago. I'm not sure what the fascination is with those little burgers, but it may be because you can eat so many of them at one sitting. I couldn't tell you from experience because I've never actually eaten one.
I've never even wanted to make sliders because I thought you had to make each little hamburger patty individually and it seemed like too much work for teeny, weeny burgers. I never even thought about cooking the beef all together in one pan and then cutting them into small patties.
When I first saw this recipe for Sliders on Noble Pig, I knew that my guys would like them, but I had no idea that they would absolutely go crazy over them! I decided to surprise HayHay with this treat since he missed out on the White Castles.
I barely got to grab one to take a few quick photos before the carnivores swooped in with their plates. I obviously wasn't successful in trying to take a photo of the entire platter of sliders. Actually, the photo of the one alone looks a little sad, too, but these were so good! Be sure to visit Noble Pig to check out her recipe and awesome photos of these sliders.
Between HayHay, one of his buddies, and SirHoney, all sixteen little sliders disappeared within minutes. Wow! You'd think that I never fed them. (Luckily, I did manage to eat one myself.)
It's funny how BigSis was just talking about being a vegetarian. (It wasn't planned for me to talk about beef the day after she talks about not eating any critters. It just worked out that way.) I think I could probably do without meat if I lived alone, but the guys in my house would never stand for it. They are 'meat eatin' maniacs!

~LilSis