August 15, 2009
I know that yesterday's topic was pretty serious and we typically like to keep things pretty "chipper" here on our blog. But, that being said, when we're passionate about something, we feel it's important that we share it with you here. That information about the dolphins in Japan is very disturbing, and if there's anything we can do to make a difference, we have to do it.
When I think of one person who has been able to make such a huge difference in a fight for a cause; it would be Nancy Brinker. I was so happy when I heard that on Wednesday, President Barack Obama honored Susan G. Komen for the Cure® founder and cancer advocate Ambassador Nancy Goodman Brinker with the Presidential Medal of Freedom, the nation's highest civilian honor.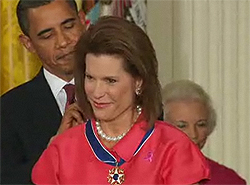 "One of the last things Suzy Komen did before she died was to have her sister, Nancy make her a promise," President Obama said. "Nancy promised that she would prevent other families fighting breast cancer from suffering the way her family had. What began as a shoe box with $200 and a list of friends has become a global Race for the Cure; a campaign that has eased the pain and saved the lives of millions of people around the world. In the months after making that promise, Nancy lay awake at night wondering if one person can really make a difference. Nancy's life is the answer."
The story of these two sisters has always stuck in my mind and has motivated me to help raise money for this cause for several years now.

Until yesterday, I had come to the conclusion that I wasn't going to be able to commit to Captain our team in this year's Race for the Cure due to some major demands on my time.  I was still going to participate but I was going to try to recruit another team member to take on the role of Captain. Then, in the same day that I heard about Nancy Brinker receiving this award, I ran into a friend, who is a Survivor, only to find out that she is sick again and still unsure of her prognosis. It makes me really, really sad. She isn't even 40 yet and has two young children.
That sure put things into perspective for me.  Sure, I have too many demands on my time right now, but I'm not fighting for my life! So, I really feel like this is something that I'm supposed to do.
Our local San Diego Race for the Cure is November 1st, so I think I better start rallying my team together! You can go to the Susan G. Komen For the Cure site to find out more about a race near you!

~LilSis