September 6, 2009
It is HOT and MUGGY here in Southern California! This past week, we've had higher temperatures than we've had all Summer. And I don't know about you, but in this kind of weather, I MUST have a reliable deodorant that's also an anti-perspirant. There was a time when I absolutely, positively could NOT find one that worked for me, but those days are gone!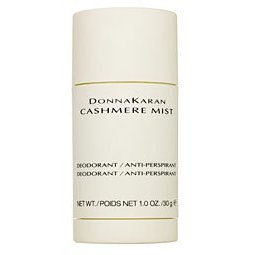 I've talked to other women who have had similar problems trying to find a good deodorant. Over the years, I've used Sure, Secret, Secret Platinum, and Mitchum and they all eventually stopped working for me. I'm not sure if it's hormones or age or a combination of both. Luckily, a couple of years ago, BigSis turned me on to Donna Karan Cashmere Mist Deodorant/Anti-Perspirant and it still works like a charm!
I was thrilled to finally find something that works! I can work up a real sweat while exercising out in this weather and this deodorant still does not fail! When I do perspire during exercise, I might detect a faint scent of Cashmere Mist, but no more stinky, sweaty smell! And it doesn't leave an ugly underarm stain on your clothes like some deodorants do.
Here's how they describe this amazing deodorant on the Donna Karan website:
The Ultimate Cult Product, try it to believe it. Totally gentle and effective, delicately scented with Cashmere Mist, this advanced formula also controls wetness and perspiration keeping you feeling dry and smelling fresh all day. So gentle it can be used immediately after shaving without irritation. Perfect for even sensitive skin.
You can buy the deodorant individually for $18.00 or the trio for $45.00 at most department stores or on Amazon.  I know it is more than most deodorants, but I can promise you that it is money well spent. One bar lasts for almost three months! Seriously!

~LilSis