September 18, 2009
Have you seen the new "The Dress Issue No. 2" catalog from White House Black Market?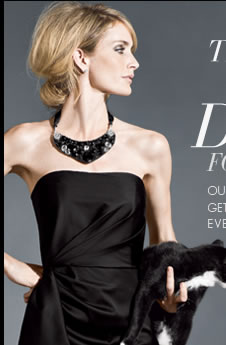 Not only are there some beautiful little black dresses in this catalog, but there are some precious little black and white kitties, too.  I'm not sure what cats have to do with selling black dresses, but this catalog has a little kitty on almost every page.
I do love White House Black Market, though.  Their clothes fit me better than almost any other brand, so when I need something special it is usually the first place I go.  The last little black dress that I bought for a formal event, I bought at White House Black Market.
Here are a few of my favorite photos from the catalog. You can see all the new little black dresses on White House Black Market.
I love these shoes but the kitty is even cuter! Look at her pretty little necklace.
They must have given this little guy a treat to help him sit still. He's still licking his chops.
Not that there's anything wrong with it, and I am a "cat lover", but if you're all dressed up in a little black dress, are you really going to pick up a big, white, furry kitty?
She has a smile on her face, but this kitty looks like he's about done with the photo shoot!

~LilSis