September 20, 2009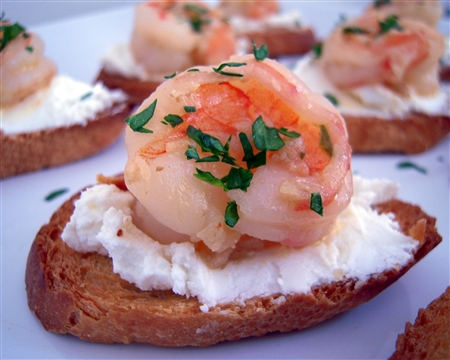 I'm so glad that I was reading Kahakai Kitchen the other day when Deb mentioned the new weekly cooking event, I Heart Cooking Clubs. Luckily, I found out about it just in time to join the fun!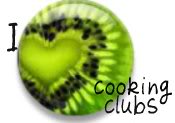 The Cooking Club is presently featuring the recipes of Nigella Lawson and the first weeks' challenge is Party Treats. Yay!! My favorite course!
You all know that I LOVE appetizers!  I've mentioned more than once or twice how much I prefer hosting Hors D'Oeuvres & Cocktail Parties versus hosting a formal sit-down dinner. Most of the time when we have friends over, we end up standing around the kitchen bar and island talking, eating, having a few cocktails, and we never sit down. (It sounds rude, I know, but no one ever wants to sit, including myself!)
So, for this first week on IHCC, I decided to make Nigella's Shrimp with Garlic and Chili Pepper.  The original recipe can be found online at Food Network. I thought these would be a perfect little party treat to take to a get-together we had planned for last night; and, yes, they were a hit!
I changed it up a bit, like I always do when I cook!  I have three hungry men in my house, so I started with a pound of shrimp instead of a half of a pound. (I did want to have some left to take to my friends after the guys did their little taste test.) Since I started with twice as much shrimp as the original recipe called for, I used 3 T. of olive oil instead of 2 T. and 3 large garlic cloves instead of two. Also, my local store didn't have red chili peppers, (which ticked me off) so I used a half of a Serrano instead. And, I wanted some red color so I added 1/2 t. crushed red pepper flakes. The combination of the two turned out great!
Nigella's recipe called for unshelled shrimp but since I wanted to serve these individually on toasted baguette slices, I shelled the shrimp before I cooked it. I also decided to spread a little goat cheese on the toasted bread before sitting the pretty little shrimps on top.  Everyone loved these little party treats!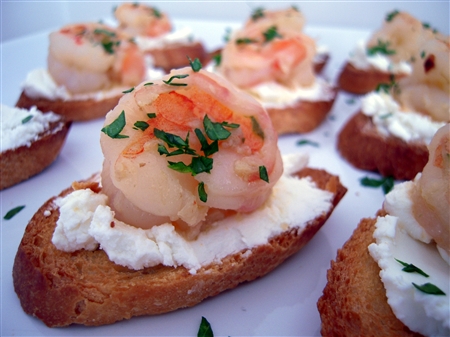 Shrimp with Garlic and Chili Pepper
(adapted from Nigella Lawson's Nigella Bites online at Food Network)
3 T. olive oil
1/2 serrano pepper
3 large garlic cloves, minced
1/2 t. crushed red pepper flakes
1 lb. medium to large shelled shrimp
1/2 c. white wine
Pinch of salt
5 oz. package of soft goat cheese
1 baguette bread, sliced diagonally
1 T. chopped Italian parsley
To begin, lightly brush the baguette bread slices with olive oil and toast at 400 degrees for ten minutes or so. Set aside to cool.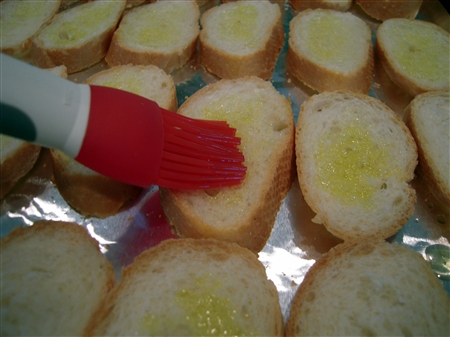 Pour the olive oil into a wide, heavy-bottomed frying pan. Then add the pepper and garlic and, over moderate to low heat, to infuse rather than to color, fry for 2 minutes, stirring all the time.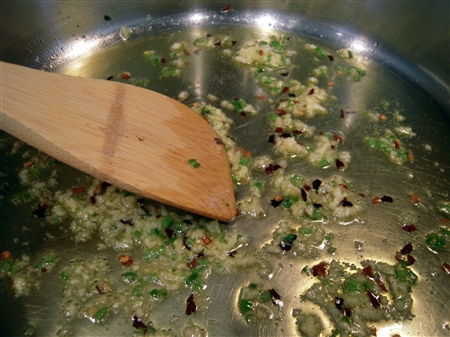 Then turn the heat to high, add the shrimp, and stir-fry them for another 2 minutes or until they turn pink and are just delicately cooked. Pour in the white wine and let it bubble up. Cook for just another minute or so. Season with salt, if necessary.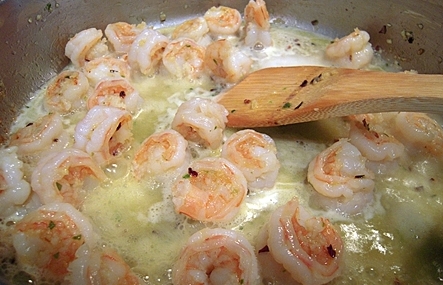 Spread some goat cheese on each bread slice.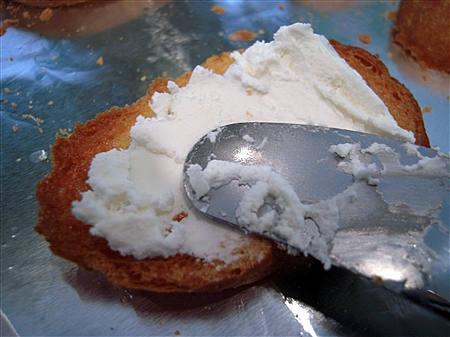 Place a nice juicy shrimp on top, sprinkle with some parsley and serve immediately.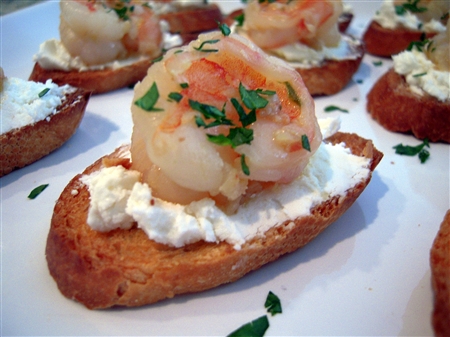 Enjoy! And, don't forget to check out I Heart Cooking Clubs today for the full roundup of awesome party treats!

~LilSis