October 2, 2009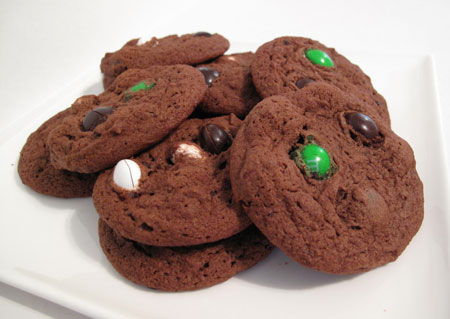 I happened to find a bag of Coconut M&Ms at a random Kroger a couple of weeks ago, and decided to make cookies out of them.  I love M&M cookies!  I think it's because our grandmother in west Texas would make a batch whenever we came for a visit, and I just have warm memories of her with M&M cookies.  We only had one grandmother, and she was a good one!  😀
For an excellent cookie recipe, I looked to Anna the Queen of All Cookie Madness, of course!  She didn't let me down.  She recently did an M&M Cookie Roundup, and linked to a chocolate M&M cookie recipe from One Ordinary Day.  I made a few changes to that recipe, and came up with these beauties.
Chocolate Coconut M&M Cookies
(Adapted from One Ordinary Day)
2 c flour
3/4 c unsweetened cocoa powder (I used Penzeys Natural Cocoa)
1 tsp baking soda
1/2 tsp salt
1/2 c butter, softened
1/2 c shortening, at room temperature
2/3 c granulated sugar
2/3 c packed light brown sugar
1 tsp mexican vanilla extract (Penzeys Mexican Vanilla, of course!)
2 large eggs
1 bag Coconut M&Ms (1 cup for the batter plus the rest for the cookie tops)
Preheat oven to 350 degrees.  Combine flour, cocoa powder, baking soda and salt in a small bowl.  Whisk to combine.
In a large bowl, beat butter and shortening with sugars and vanilla until creamy.  Add eggs, one at a time, beating well after each one.  Beat flour mixture into butter/sugar mixture, in 2 or 3 additions.  Stir in M&Ms with a wooden spoon.  Drop by tablespoons (I used a tablespoon-size cookie scoop) onto ungreased cookie sheets.  Add a couple of M&Ms to each cookie.  Bake for 9 or 10 minutes.  Cool on cookie sheet for a minute or two, then remove to wire rack to finish cooling.
Makes 3 dozen cookies.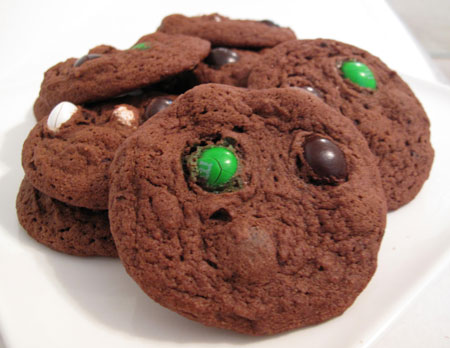 These were delicious, chocolatey, almost fudgy cookies.  The flavor of the mexican vanilla was awesome with the cocoa and the coconut.  The Coconut M&Ms worked beautifully!  Everyone gave them a big thumbs-up!  The cookies were best the first two days; after that they started to dry out a little bit.  Now there are only crumbs left and a couple of empty cookie containers…
One of the things I adore about M&M cookies is how the M&Ms that touched the cookie sheet have gotten all crispy-ish and kind of caramelized on the backs of the cookies.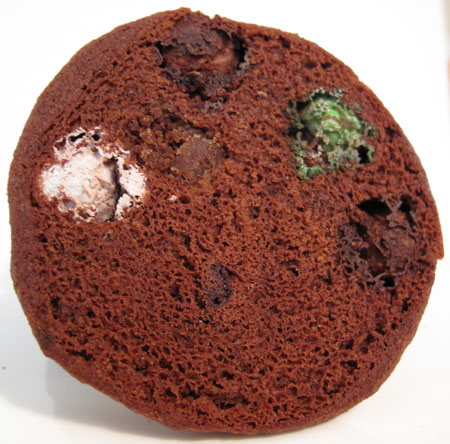 If you see Coconut M&Ms, grab a bag and turn them into these scrumptious cookies!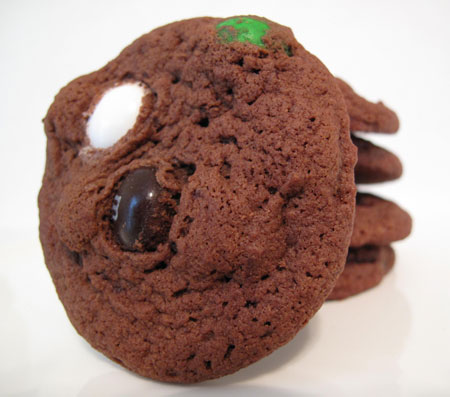 PS:  We're going pink for the whole month of October for Breast Cancer Awareness, so enjoy the pink type!

~BigSis