October 3, 2009
Have you heard about Tweets for Boobs? If not, that's exactly why I'm mentioning it here today. I know that since BigSis and I started tweeting, we haven't stopped talking about it. We're both loving Twitter and see a huge potential to tweet about a broad range of topics, some more relevant than others, and some just for plain, simple fun.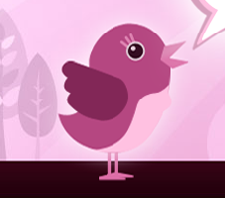 I love this idea of using Twitter to help raise money for Breast Cancer Research. Just in case you haven't heard about this project, I wanted to mention it early in the month to give everyone an opportunity to jump on board.
Tweets for Boobs

Help raise $10,000 for breast cancer research.
All you have to do is include #tweetsforboobs in a tweet through the month of October and with every tweet you are making a $1 pledge for donation.
Follow @tweetsforboobs and at the end of the month, they'll give you your pledge total so you can make a donation to Susan G. Komen Foundation for your total pledge amount.

I've already talked about how Susan G. Komen Foundation is one of my favorite charities, so I'll be putting some Tweets for Boobs out on Twitter all month. If you have a Twitter account, please consider doing a tweet or two for boobs!


~LilSis