October 5, 2009
It's finally cooling off a little bit here in Southern California. For the past few weeks we've had record high temperatures, which I happen to love, but I guess I have to realize that Summer is officially over. 
Some people say that they use the crock pot in the Summer to avoid turning on the oven but in the Summer, I'm not in the mood for most of the recipes that are usually made in the crock pot: stews, soups, chili, etc.  In the Summer, we grill something almost every night and just serve with a veggie or two and a salad.
But now that it's cooler at night and will be getting dark earlier, I won't be grilling as much. I'm already starting to get the urge to make some huge pots of chili and homemade soups. I don't make a lot of recipes in the crock pot but I really like the convenience of it so I'm on the lookout for some good, healthy, one-pot recipes that can be put on in the morning to be ready at the end of a busy day.
I have the Fix It and Forget It Lightly cookbook and I've found some recipes in there that are pretty healthy which don't contain all the cream soups, but I still usually end up modifying most of the recipes a little bit.
I threw this one together one day last week when I had a really busy day planned so dinner would be all ready when we got home. And when I say that I threw it together, I mean that literally. I was so busy that morning that I didn't even feel like chopping anything. My inspiration for this stew was a bag of Teeny Tiny Potatoes that I found at Trader Joe's. (Yes, it really said Teeny Tiny Potatoes on the label; I wished I had taken a picture of the label because I had never seen these before.)
The quantities and the ingredients in this recipe can be changed to suit your taste. Afterwards, I wished that I had added corn. Here's what I did.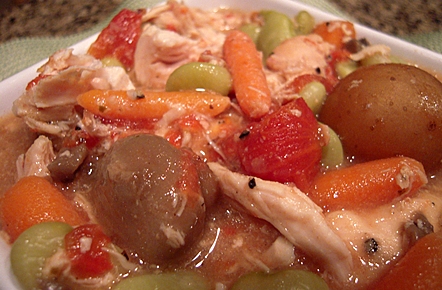 Super Easy Chicken Stew
2 pounds chicken tenders
1 bag teeny tiny whole potatoes (maybe 1/2 lb.)
1/2 bag petite baby carrots
1 bag frozen lima beans
1 can diced tomatoes
1 jar whole mushrooms
2-3 c. low sodium chicken broth
1 can Healthy Request Cream of Mushroom Soup
1/2 envelope Lipton Onion Soup mix
fresh ground pepper
garlic powder
Place chicken tenders in bottom of crock pot. Sprinkle with garlic powder and fresh ground pepper. On top of chicken, layer the potatoes, carrots, lima beans, tomatoes, and mushrooms. Pour in some chicken broth to almost cover vegetables. Mix together 1/2 cup or so of chicken broth with the one can of mushroom soup and the Lipton onion soup mix and pour over the top of the vegetables. Cook on low for six or seven hours or until the veggies are soft. Stir to combine the veggies. Serve alone or on top of your favorite noodles for a heartier meal. I served on top of Fusilli noodles.

That's it! It doesn't get any easier than that. I didn't even chop up the chicken tenders, they were so tender that they just fell into pieces. My guys loved this super duper Easy Chicken Stew so I'll definitely be making it again!

~LilSis