October 11, 2009
I am so sore in such a major way today! I'm not complaining, though, I promise! Every "Owie" that I say outloud is a very good thing! Friday was my first day back to yoga in over six months. Even though I've been walking five miles almost every day and riding my bike for an hour on the other days, I've got muscles from my neck to my toes that apparently haven't been put to the test in a LONG TIME!
I'm done talking about the boot that was on my foot most of the summer and I AM finally, finally getting back to my yoga practice.  I never realized just how much yoga helped me deal with my stress until I was away from it for six months.
My class on Friday was probably the most difficult, yet, most relaxing hour that I've had to myself in months. One hour! Just. One. Hour. No Internet. No cell phone. No Facebook. No Twitter. Just. Me. And. My. Practice.  I love the instructor at the gym I go to on Fridays. She likes to instruct her class in the dark, which I love. She's calming, yet also motivating and inspiring. I knew I missed yoga but I really didn't realize how much until after my class on Friday. Afterwards, I almost felt like me again.
We've had a lot of changes going on in our lives these past several months and I basically let the stress and worry of everything take over ME! There was almost no ME left. (I'm sure some of it has to do with my major roller coaster hormones, but we'll talk about that later.) Like most women, we tend to take care of everyone else before we take care of ourselves. But, if I don't take care of  ME,  I certainly won't be able to take care of anyone else.

On Mondays, I'll go to my local YMCA where there is another fantastic yoga instructor.  Unlike the corporate gym, the locally owned Y allows him to use props, blocks, straps, and even bamboo sticks, which, by the way, give some amazing results when you massage your calves with them prior to your practice. I can't wait for tomorrow morning!
Since I go to a couple of different gyms, I'd love to be able to travel without a mat. I've always been a little curious to find out what it would be like to do yoga wearing a pair of these toesox.
Every time I look through my new issue of Yoga Journal, I'm fascinated by their ads featuring Santa Monica Yoga Instructor, Kathryn Budig.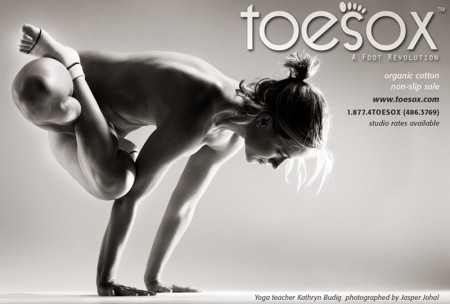 Amazing, huh? I'm really excited about getting back to my yoga routine. Maybe some day I'll be able to do this!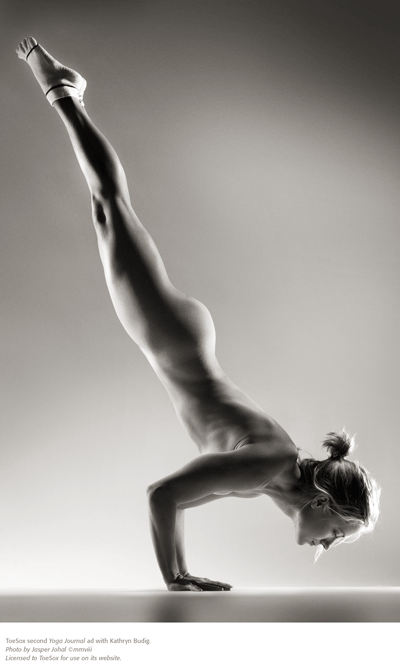 I wonder if I'm too old to dream about one day becoming a certified yoga instructor?

~LilSis