October 21, 2009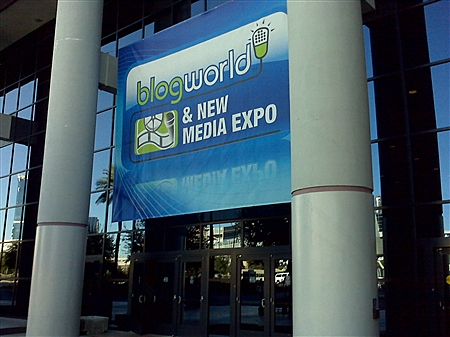 What a time we had at BlogWorld!  We won't bore you with all of the blow-by-blow details, but we'd be crummy selfish friends if we didn't share the highlights of the conference with you!  You can go to our flickr photostream to see more photos.
It was incredible to be involved with the new Guinness World Record for the most social mentions in 24 hours.  The goal was to raise money for cancer.  For every tweet, facebook update or blog post mentioning #beatcancer, 1¢ was donated by ebay/paypal and Miller/Coors.  Over $70,000 was raised.  That's over 7 million mentions in just 1 day!
The keynote panel on "New Celebrity" was moderated by Brian Solis and featured Robin from the Pussycat Dolls (?), producer and Grammy winner Jermaine Dupri, singer Matt Goss, Don Lemon from CNN and Anthony Edwards.  Quite a diverse group, wouldn't you say?  That diversity ended up with a bunch of sparks flying around that we could have done without.  On the positive side though, Anthony was totally likable, and spoke sincerely and passionately about his cause Shoe4Africa.  Very smart of him to make friends with a bunch of big-mouths like us bloggers!
We were really impressed with what Chris Brogan had to say.  Just wisdom from this expert; no BS!  We need to read his New York Times Bestseller "Trust Agents".
The final keynote session was moderated by Guy Kawasaki with Jenny the Bloggess, Kevin Pollack, and Chad Vader.  It was pretty funny, although I'd say a few too many f-bombs for my taste.  But Jenny was hilarious and totally held her own as the only woman on the panel!  Check out her stories on the alien apocalypse and William Shatner.  Go Jenny!
We had a chance to chat with Lou Mongello from wdwradio, and got some great input on wherever the heck it is that BigSisLilSis are going.  Thanks for your thoughts, Lou!  All the best to you with wdwradio.com.
And lastly, we had the awesome opportunity to meet Darren Rowse.  Yes, THE ProBlogger!  In person.  😀   Woo hoo!  Seriously, we didn't want to leave BlogWorld without meeting Darren because of the enormous respect we have for him, his expertise, and the way he conducts his business…with total integrity.  So we send a HUGE thank you to Darren for kindly tolerating our gushing, and giving us some extremely valuable input that we're going to be acting on asap!  THANK YOU!
Oh, and the big surprise that we mentioned yesterday?  It's a direct result of the ideas and encouragement from Lou and Darren.  Whatever could it be?  😀

~BigSis