October 29, 2009
Wow! I can't believe Halloween is only two days away! Where has this month gone? It's been so warm here in Southern California this month that it doesn't even feel like it should be Halloween. How can it be Halloween when HayHay has a surf meet on Saturday? It's just weird!
Luckily, it has cooled off a little bit at night this past week, because for Halloween, I love to make a huge pot of chili to share with friends and neighbors. I'm not sure when I started this tradition, but I know it's been at least ten or twelve years because I did it when we lived in Texas when HayHay was only 3 years old. I've got some great memories of all us parents taking turns either walking the kiddos around the neighborhood trick or treating or staying back at the house passing out candy.
It's not quite the same now since we don't have little ones to walk around the neighborhood, but we still love to get our friends together for a bowl of chili on Halloween!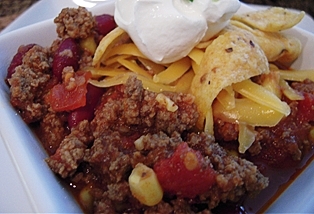 I originally posted my chili recipe back in January for a Super Bowl party, but I'm going to put it up again today because this is such a great recipe to make for a Halloween get-together.
LilSis' Chili Con Carne
3 pounds lean ground beef
One sweet onion, chopped
3-4 cloves garlic, minced
1 dark beer
1 (28 oz) can diced tomatoes
1 (28 oz) can tomato sauce
1 can dark kidney beans (drained)
1 sm. can corn (I use Green Giant Sweet vacuum packed)
4 – 5 tsp. Penzeys Chili Con Carne spice*
2 chopped roasted poblano peppers (optional)
1/4 t. cayenne
1/2 t. onion powder
salt to taste
1 T. olive oil
Toppings:
chopped onion
chopped jalapeno
fritos
oyster crackers
sour cream
grated cheddar cheese
*The Penzeys Chili Con Carne spice, formerly known as my secret ingredient, is so different from just a regular chili powder. It's the reason why you don't see cumin or a bunch of other spices listed in the recipe. Here are the ingredients in this one amazing spice: ancho chili pepper, tomato powder, ground cumin, Mexican oregano, garlic, coriander, onions, red and green bell peppers, Tellichery black pepper, allspice, cilantro, and cloves. If you don't have a Penzeys store nearby, you can order online from the Penzeys Spices website.
Saute the chopped onion in the oil in a large saucepan until onion is soft. Add the ground beef, salt and minced garlic to the pan and brown until beef is cooked throughout. Drain the beef and return to the pan. Add the beer to the beef and simmer for 15-20 minutes on medium heat. Add the diced tomatoes and simmer for another 15-20 minutes. Simmer for longer if you want the tomatoes to cook down more. Add the tomato sauce, roasted peppers, and Penzeys Chili Con Carne spice. Simmer for another 30 minutes or so. Add the cayenne pepper, onion powder and additional salt if necessary. (This is the stage where you can adjust the seasonings to your own taste. This isn't like baking, so add whatever you want here.)
Once you have your chili seasoned just right, add the can of beans and the corn and just heat throughout. This can be served right away or put in a crockpot to stay warm for hours. And, it's even better heated and served the next day.
I usually set up a buffet style bar and put out all the toppings so everyone can add whatever they like! Enjoy and have a Happy Halloween!


~LilSis