November 15, 2009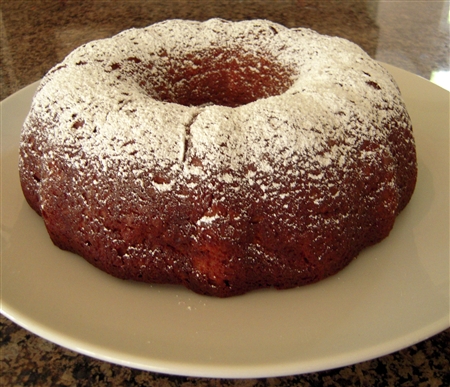 Did you know that today is National Bundt Day? I probably wouldn't have known it if I hadn't been reading The Food Librarian. Thirty days ago, The Food Librarian started a project called I Like Big Bundts, a mission to make a different bundt cake every day for 30 days leading up to today. Pretty impressive, if you ask me.
I think this project got my attention because I also prefer baking a cake in a bundt pan. I don't bake a lot of cakes but for some reason I have better luck using a bundt pan versus a regular 13 x 9 pan or round pans. I like bundt pans for some of the same reasons The Food Librarian says she likes baking with a bundt pan.
There are some terrific bundt cake recipes on The Food Librarian that I will try in the future, but for today's cake, I didn't want to start from scratch. (Hopefully we don't have anyone reading this that is appalled by the use of a cake mix.)  🙂

This Eggnog Spice Bundt cake, posted recently by Evil Chef Mom, in her very clever way, really caught my eye and I knew right away that I'd be trying it soon. I don't care for frosting, so I love that this cake is just sprinkled with powdered sugar. I decided that this would be the perfect cake for me to bake today for National Bundt Day.
I've had quite a few baking fiascoes, so I always get a little nervous when I bake something. If that sounds weird, then call me weird, but it's true. Here goes!  (fingers crossed).  🙂
First, I get all my ingredients out and when I went to get my bundt pan, it was no where to be found. Missing In Action. I know I didn't loan it to anyone. WTH? What happens to a bundt pan? I have no idea where it went. Luckily, my friend, D saved the day by loaning me hers.
Next, I proceed with mixing in all the ingredients. I don't know how I managed to raise a child that doesn't like nuts, but since my son doesn't care for them, I omitted the 1 1/3 c. pecans that were called for in the original recipe. (I would have loved the pecans in this cake.) Since I omitted the pecans, I felt like adding a few little extra ingredients.
So, I added the grated carrots and zucchini and since I love cinnamon, I added a little cinnamon. Then, I found a vanilla bean in the pantry and thought that sounded good, so I scraped out the inside of a half of a vanilla bean and threw that in.
Since I added extra moisture with all the grated carrots and zucchini, I decided to cut back the yogurt to 3/4 cup instead of a cup.
So far, I think it's going pretty well. I've got it all mixed together, so I pour the batter into the sprayed bundt pan. I glance over the recipe one last time and realize that I didn't take the eggnog out of the fridge so it didn't get added in. Sheesh! (No wonder I thought the batter was a little thick. You would think that I could have glanced at the recipe before I put the batter in the pan!)
I dump everything back into my mixing bowl and add the eggnog. Of course, the batter has some of the Pam spray on it at this point, but I didn't figure it would hurt anything, so I just wiped the pan out, sprayed it again and poured in the batter. And, guess what? It turned out great! (Hallelujah!!)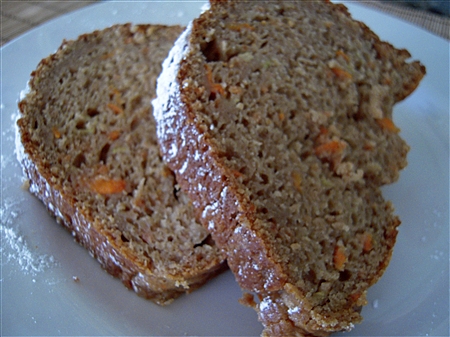 The bottom line is that this cake turned out very moist and spongy and tasty and yummy and everyone loved it!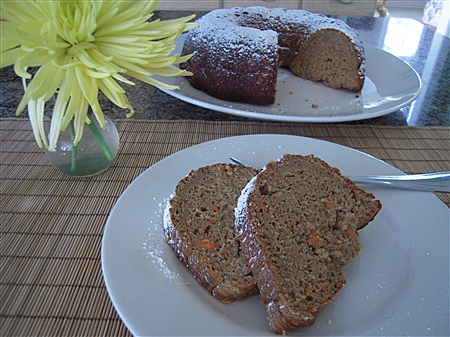 Trust me when I say that this is not something my family sees on our dinner table very often.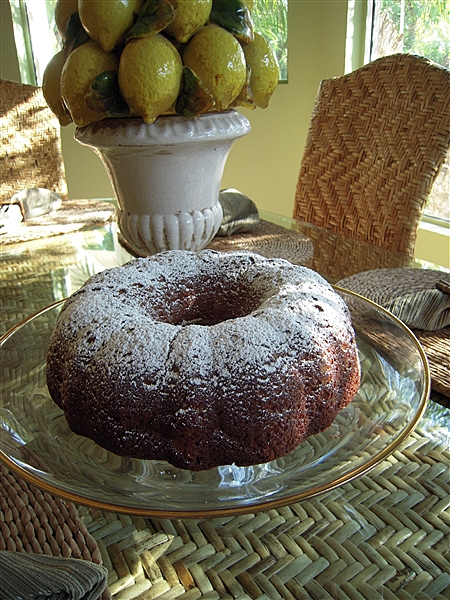 Eggnog Spice Bundt Cake
(adapted from Evil Chef Mom)

1 (18 1/4 ounce) box of carrot cake or spice cake mix
1 (4-serving) box instant cheesecake pudding
3/4 cup nonfat vanilla yogurt
1/4 cup vegetable oil
1 cup light eggnog
3 eggs
3/4 c. grated zucchini
1/2 c. grated carrots
1/2 vanilla bean
1/4 t. cinnamon
Powdered sugar
Preheat oven to 350F. Coat a nonstick Bundt pan with cooking spray. Combine cake mix, pudding mix, yogurt, oil, eggnog, and eggs in a large bowl. Mix until creamy. Stir in grated carrots, zucchini, cinnamon, and vanilla bean. Pour into prepared pan. Bake 40 to 45 minutes, until a wooden pick inserted in the center comes out clean. Cool on a wire rack. When cool, dust with powdered sugar.
One thing I really love about a bundt cake is that you can get away with serving it for breakfast. It's almost considered more of a coffee cake. How perfect would this be served for breakfast along with a nice cup of coffee?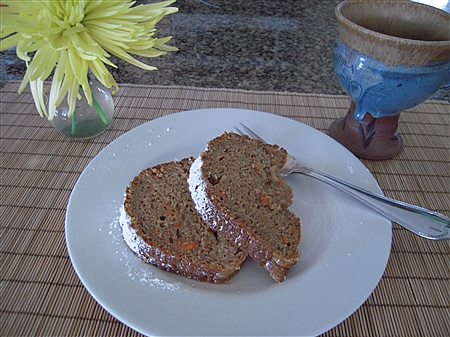 ~LilSis