November 16, 2009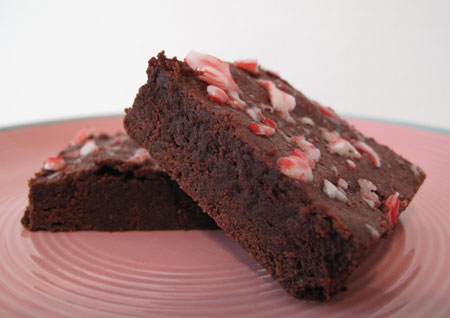 With our SPCA Bake Sale looming on the calendar, I've been busy planning and test-driving a couple of new recipes.  The last thing I need during the baking frenzy is a recipe that doesn't work!  I have a bunch of tried-and-true favorites that I'm making, but still wandered through my cookbook collection in search of some new goodies to try.  I flipped through Carole Walter's "Great Cookies", and found a dark chocolaty recipe called Triple Chocolate Peppermint Bars that sounded crazy good.
You make a dark chocolate shortbread base and then top it with a dark chocolate brownie filling that has peppermint schnapps in it.  Then you cover the whole thing with a thin chocolate ganache that has even more schnapps in it.  How bad could that possibly be!  It certainly deserved a test-drive!
I didn't have schnapps so I used peppermint extract instead, and left the ganache layer off since I thought it might be too smeary and messy once it's packaged in a cute little treat bag.  The top got a sprinkle of crushed candy canes instead.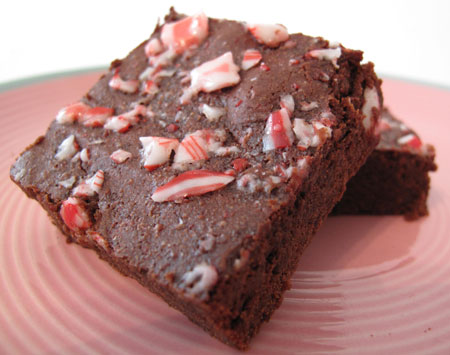 Can I just say YUMMY??  Oh, mommy, these have an incredible chocolate flavor!  Maybe I loved them so much because I adore chocolate shortbread and brownies and peppermint.
Only one little problem…my bars didn't come out looking anything like the photo.  I expected the bars to be kind of chunky and thick, but mine came out very thin; only about 1/2″.  Phooey.  I can't figure out what I might have done wrong, if anything, but I guess it doesn't matter.  I think the bars are too thin and fragile to work well for the bake sale, which is a bummer, but this recipe is a keeper!  If I make them again and don't need to package them, I'll definitely add the ganache layer!

~BigSis