November 29, 2009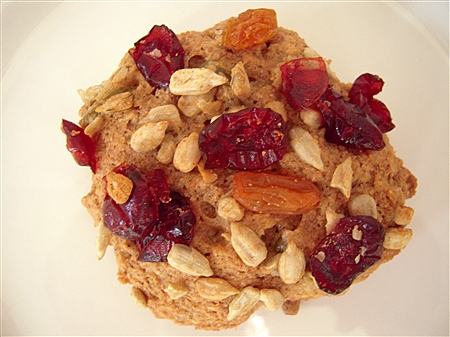 I found this recipe for the Flu-Fighter Cookies in the October issue of Food Network Magazine and I tore it out right away because chances are that I'll never get back to that issue again. That's part of my new plan to get caught up on my magazine reading.
Instead of marking the pages of recipes I want to try, I'm just tearing them out and putting them in a folder. I now have a folder for recipes, one for ideas, and one for inspiration. I've also got a binder with sheet protectors in it for all the 'at home yoga routines' that I tear out of Yoga Journal.
The main reason that I wanted to try these cookies is because they sounded like they were pretty healthy. Food Network calls this an immunity-boosting cookie because of these five powerful ingredients.
Ginger has some antiviral compounds and its antihistamine properties help combat congestion.
Cranberries

provide antioxidants which help your body fight off cell-damaging molecules.
Oats are rich in selenium, a nutrient that helps your body fend off harmful free radicals.
Yogurt helps balance the bacteria in your digestive tract boosting your ability to absorb healthful vitamins and minerals.
Walnuts (in original recipe) contain zinc that helps keep viruses from reproducing in your body. (Since my son doesn't like walnuts, I substituted sunflower seeds.)
Sunflower seeds

are an excellent source of Vitamin E which has significant anti-inflammatory effects.
I also made a few other changes. The original recipe called for regular flour but I used wheat flour instead. I used honey instead of molasses and I reduced the quantities of each fruit by 1/4 of a cup.
The guys said that they liked the cookies but I'm still not convinced that they weren't just saying that so they didn't hurt my feelings. My cookies did not look like the photo in the magazine AT ALL! Theirs looked pretty thin and somewhat chewy. Mine puffed up and were really thick and cakey. And, I made sure that I ended up with the same quantity of cookies. The recipe said that it made 30 cookies, which is exactly how many I made.
They were still good and I really liked the fruit and the sunflower seeds on top, but the texture was more like a muffin than a soft, chewy cookie. I heated one up in the microwave for just a few seconds this morning and it was yummy, so I'm going to freeze half of them and just take out one at at time for a quick breakfast.
Flu-Fighter Cookies
2 1/4 c. all-purpose flour
1 1/4 t. baking powder
3/4 t. baking soda
3/4 t. ground cinnamon
1/2 t. freshly grated nutmeg (I used ground nutmeg)
Pinch of ground cloves
1/4 t. salt
1 stick unsalted butter, room temperature
1 c. packed dark brown sugar
2 large eggs
1/4 c. honey
1/4 c. low-fat plain Greek yogurt
1 T. freshly grated ginger
1 t. finely grated lemon zest
1/2 c. old-fashioned oats
1 c. golden raisins
3/4 c. cranberries
1 c. sunflower seeds
Line two baking sheets with parchment paper. Whisk the flour, baking powder, baking soda, cinnamon, nutmeg, cloves and salt in a medium bowl.
Beat the butter and brown sugar in a large bowl with a mixer on medium speed until light and fluffy, 3 minutes. Beat in the eggs one at a time, fully incorporating each before adding the next. Add the honey, yogurt, ginger and lemon zest and beat until smooth, scraping the sides of the bowl as needed. Reduce the mixer speed to low and beat in the flour mixture to make a sticky batter (do not overmix). Fold in the oats and half of the raisins, cranberries, and sunflower seeds. Mix the remaining dried fruit and nuts in a small bowl and set aside.
Drop heaping tablespoonfuls of batter onto the prepared baking sheets. Top each with some of the reserved dried fruit and nut mixture and chill for 30 minutes. Meanwhile, preheat the oven to 375 degrees.
Bake the cookies until dark golden but still soft, 10 – 12 minutes; cool on a rack. Store in an airtight container for up to 1 week.

~LilSis