December 4, 2009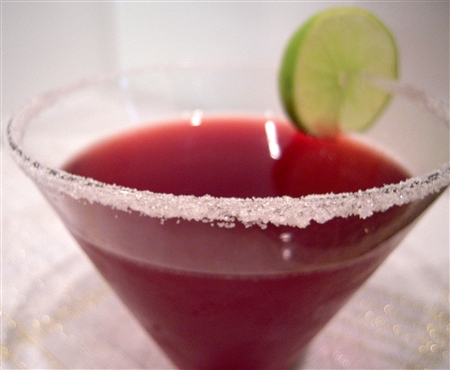 (Sorry for the strange glare in the photo. I guess I should have made and photographed the cocktail at noon instead of 4 p.m. Then again, if I had started making and tasting these at noon, I might not have ended up with this post!)
Is it just me or does it seem like pomegranates have recently become the "in" thing? It's true that they are loaded with more antioxidants than Cranberry Juice, Concord Grape Juice, and even Red Wine, but why are we suddenly hearing more about the health benefits of pomegranates? I dunno!
When we were kids, we had a friend in the neighborhood that had a Pomegranate tree and we used to eat them all the time, not knowing of course that they were good for us. (I could tell you about the birthmark on my leg that I thought for many years was a stain from a pomegranate seed, but you probably wouldn't believe me.)
Anyway, BigSis and I were lucky enough to receive some trial bottles of POM Wonderful Pomegranate juice from the lovely people at POM Wonderful.  Honestly, these little bottles of POM juice in the produce section of my store have been tempting me for some time, so I'm glad to finally have the chance to try it. And, since I love a tart fruit, I love this juice.
It's really great alone and can also be used as a substitute in a recipe like these Cherry-Pecan Meringue Bars, or even in a salad dressing, but I decided to try it out in a cocktail first. After talking it over with my friend, V, I decided to adapt a recipe of hers from a 2007 Outdoor Living to come up with this Pomegranate Orangetini.
I bet Santa would like to find one of these waiting for him alongside his plate of cookies!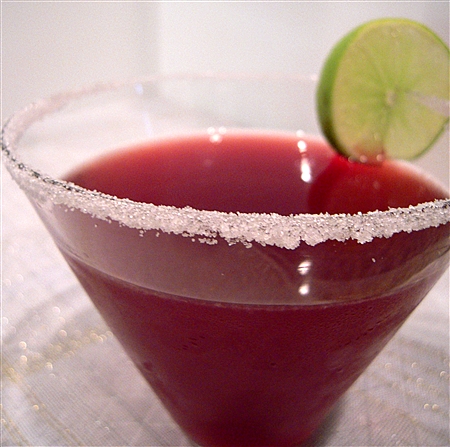 Pomegranate Orangetini
(adapted from Outdoor Living 2007)

2 parts Pomegranate juice
1 part Vodka
splash Triple Sec
splash fresh lime juice
splash Fresca or Ginger Ale
sugar
Prepare a cocktail glass by wetting the rim with a lime and frosting it with sugar. Mix the first four ingredients in a cocktail shaker with ice, strain into the prepared glass, top with a splash of Fresca or Ginger Ale and garnish with a lime slice.

~LilSis