December 19, 2009
Today, I'm sharing with you one of my favorite TomTom Santa photos. I did publish this one last year, but just in case you missed it, here it is again. Doesn't he look festive?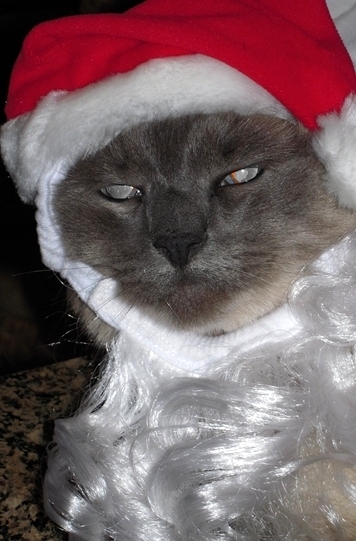 BigSis still hasn't been able to convince her two little furkids to pose in their new Christmas outfit she bought for them this year.  Since there's only one December 'Caturday' left this month, I thought it might be fun to invite our readers to share any Christmas photos of their kitties dressed up for the holidays.
If you have a photo that you'd like to share and would love to see posted on our final December 'Caturday' next Saturday, just send it to me as an attachment in an email to lilsis at bigsislilsis dot com. Make sure the photo is already resized to no larger than 450 x 340. I know this isn't much notice, but if I have the photos by Wednesday, December 23rd, I'll promise to have them up on Saturday the 26th!
Come on…it'll be fun. Don't tell me that BigSis and I are the only ones who dress up their furkids in Santa Hats and Reindeer Antlers!


~LilSis