December 30, 2009
The weekend before we left for Chicago, I decided that I was going to make Almond Toffee to give to our friends and neighbors for Christmas. It probably wasn't the best timing to try a new recipe as we were still finishing up Christmas shopping, wrapping, and packing in preparation for our trip to Chicago the following day.
On top of all that, we ended up spending most of the weekend in Mission Bay at HayHay's surf competition since he made it all the way to the finals. But, somehow, in the midst of all that, I did manage to make two batches of toffee.
I'd like to give a "shout out" and a "huge thanks" to Anna of Cookie Madness for taking the time to reply to me via email regarding a couple of questions I had about the instructions.
I really appreciate it, Anna!
This recipe is one that Anna has made for many years and since the directions are a little long, I think it's best for you to go to Cookie Madness for the Best-Ever Almond Toffee recipe. You'll also want to read her Almond Toffee Revisited post which has more tips on making this toffee turn out "just right".
For my first try at this recipe, I just made the small batch so I could get a feel for it. I substituted pecans for the almonds, since I had some on hand, but I didn't like it as much as I thought I would. Other than that, this batch was just a teensy bit thicker than I would have liked, which may have been because the temperature got up to almost 295 before I poured it out of the pan. It was still crispy and crunchy, just not perfect.
BigSis has made this toffee almost every Christmas for as long as I can remember. And, guess what? Hers is always perfect. Mine turned out pretty darn good for being my first time to make it, but it wasn't perfect. That's okay though, I still gave myself a little pat on the back for trying something new and not having a meltdown over a slightly thick batch of toffee.
For my second batch, I went ahead and doubled the recipe since I was feeling a little better about the process. This time I did use almonds, but since I discovered that I don't like chopping chocolate, I used semi-sweet chips instead. (I shouldn't have done that!) When I asked for a couple of expert opinions from the chocolate lovers in my house, they both noticed that the chocolate in the first batch was better.
This batch also turned out a little too thick, as you can tell in the photo, but it was still good. I don't think anyone else really noticed, but this batch got a little chewy after the initial crunch. It wasn't as crispy and crunchy as it should have been, but I think I know why. I panicked just a little after I poured it into the pan and I think I gave the pan one too many teeny, tiny taps, which Anna specifically advised me not to do. I knew right away that some of the air bubbles were popping and apparently that's what keeps this toffee so crunchy.
When in Chicago, my mother-in-law happened to pull out some toffee that her brother-in-law had sent to her from Florida. Even though I usually bypass the sweets, I was curious to try it because of my recent attempts at toffee making. This toffee was even thicker than my second batch but somehow was still really crunchy and crispy. It's supposedly made at some special store and our uncle loves it, so if I ever end up with a perfect batch of toffee, I'm going to send some to him and my mother-in-law. I'm sure they'd both be surprised!
All in all, in the end, I did learn a few things about making toffee.
First of all, toffee making is not for wimps. I never knew how long it took to get candy up to 290 degrees and with constant stirring, it's a bit of a workout. Secondly, I would invest in a new thermometer before attempting this again.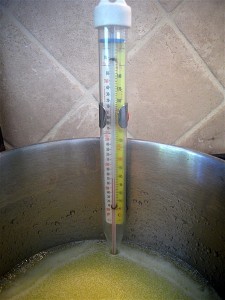 This is the thermometer that I used, which is the "attach-to-the-pan" type that Anna advises not to use. It's all I had and I didn't have time to go get a new one, so the fact that both batches turned out thick probably means that my thermometer was a bit off.
Lastly, just stick exactly to Anna's Best-Ever Almond Toffee recipe! Don't make substitutions, use a good thermometer, and follow the instructions to a tee and I bet you end up with a perfect batch of toffee!

~LilSis