January 9, 2010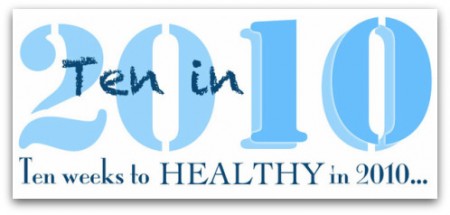 As I mentioned before, I'm going to do a weekly post on my Ten in 10 Challenge progress. Our team leader and creator of the Ten in 10 challenge, Lori of The Recipe Girl is posting her progress on Saturdays so I thought it made sense for me to do the same. I know some of the other participants are posting on Saturdays as well. At last count, there are 317 people participating in this challenge.
I feel good about this first week. In looking back at my specific goals, I was able to achieve most of them. Since I want to keep on a positive note, I'll start off with what I was able to accomplish.
I forced myself to go to bed earlier! (This one is REALLY hard for me.)
I got up earlier and got my workout done early except for Wednesday when I took the long walk at lunchtime.
I wrote everything down; food, workout, and weight.
I planned our meals for the week, did the shopping on Sunday and stuck to the menu.
I restricted my cocktails and my happy hour snacking. (Had green apple slices instead of cheese and crackers.)
I was able to lose my one pound for the week.
I also joined the ten-in-ten-challenge team on Spark People and am excited about making more time to get that all set up. There are some amazing features on this site, including tracking the nutritional information of everything you eat each day. This is a good article that I just received from them yesterday called; "The Four-Letter word that can end mindless eating forever."
Just a couple of things that I couldn't squeeze in this week were the 'after dinner' walks, The 30 Day Shred, and the hula hoop on the Wii. We got a new t.v. recently and HayHay has been too busy to teach me how to set up the WiiFit and turn everything on by myself. I'm hoping to have time to do that this weekend. Just 15 minutes of that Hula Hoop is a real workout!
Here's something that I stumbled upon that I thought I'd pass on to anyone that might be interested. Have you heard about or seen the fitbook from fitlosophy?
What I really love about this little book is that there is a place to record your workouts, log your daily food intake, and list your stats and your goals each week. I think having just one place to log everything for each day is going to be really helpful for me. You can take a virtual peek at the Fitbook to get an idea of how the planning pages are designed. You can order the book directly from fitlosophy, but I found fitbook on Amazon, so it's sitting in my shopping cart now just waiting for me to finish my order. Thanks for the Amazon gift certificate, SisMama!
Have a great weekend everyone! I ran across this quote recently and I think I'm going to post it in my bathroom so I can read it every morning.
"If I find 10,000 ways something won't work, I haven't failed. I am not discouraged, because every wrong attempt discarded is another step forward."
– Thomas Edison

~LilSis