January 11, 2010
It may be beautiful and sunny in LilSis' neck o' the woods, but it's colder than a well-digger's butt here in Texas.  I guess that's pretty darn cold, right?  Our last few nights have been close to 10 degrees, and our daytime highs have been well below freezing.  It's definitely soup season here!
I've been trying my new vegan diet on for size this week, and so far, it's been pretty easy.  I've been disappointed to see how many of my favorite products have unexpected animal products in them, but I'll adjust and it really motivates me more. It'll just take a little getting used to, and my palate will need to happily adapt to a dairy and egg-free world.  I did lose 3 pounds this week, but I think it's because it was kind of a detox from the semi-bad eating I've been doing for the last month or so, and some of that weight was bloaty water weight from too much salt, sugar, etc. It's the "etc" that gets you every time!
So dinner the other night needed to be 1) soup, 2) vegan, and 3) quick and easy.  Voila!  Here's what I came up with: Creamy Tomato Soup with no added salt, no butter, no cream, no guilt AND lots of flavor!  It's vegan, but I wanted to share it with you because it's so delicious, but isn't loaded with bad fats like the tomato basil soups you usually find.
You can use any seasonings you like.  I used the salt-free Italian seasoning and Mural of Flavor, and surprisingly didn't have to add any salt at all.  I think it may have something to do with the citrus peel in the Mural of Flavor, since lemon reduces our perceived need for salt.  I'm super-sensitive to salt and get big "salt bags" under my eyes from a small amount of it, so being able to skip the salt is huge for me.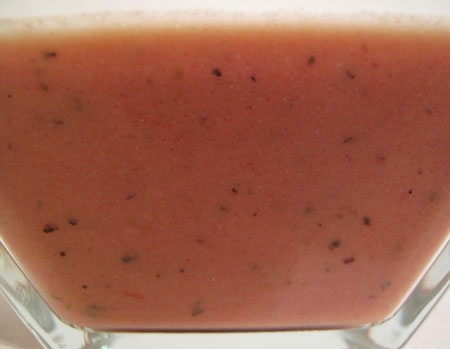 Creamy Tomato Soup
(recipe by me)
28 oz can Fire Roasted Crushed Tomatoes
Water (I filled the tomato can about halfway full, but make your soup as thick or thin as you like)
2 tblsp Italian seasoning (I used Pampered Chef salt-free)
Penzeys Mural of Flavor, optional but really tasty
3/4 cup cashew cream (see note below)
Simmer the tomatoes and water in a medium saucepan with the Italian seasoning and Mural of Flavor for about 20 minutes to let flavors develop a bit.  With an immersion blender, puree the soup until it is smooth, or leave it chunky if you prefer.  Stir in cashew cream and heat through.
Note: Cashew cream is my new favorite discovery.  It's from Tal Ronnen's book "The Conscious Cook".  You might have seen Tal on Oprah recently.  Cashew cream can be used in place of milk or cream in lots of recipes.  All you do is soak some raw cashews for 12 to 24 hours, and when whiz them around in a blender with just enough water to cover them.  That's it!  Just cashews and water.  Sure, nuts do have fat, but it's good fat and you aren't guzzling a gallon of this stuff.  You're just using 3/4 cup in this whole recipe.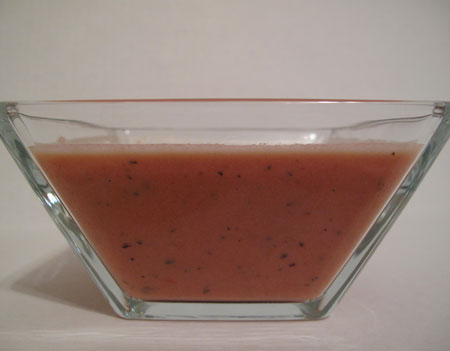 ~BigSis