January 16, 2010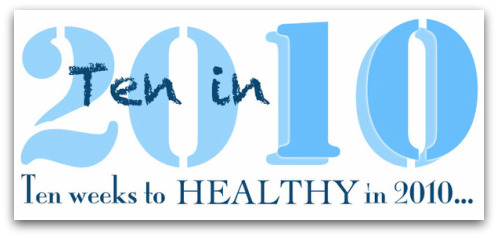 I hope everyone had a great week! It just flew by for me.  I feel like I had a healthy, productive week even if I did slip up a couple of times. We went out on Tuesday for a friend's birthday and enjoyed a few cocktails, then on Wednesday we had friends pop over to say a belated Happy Birthday to SirHoney which led to me staying up way too late that night.
On a positive note, I was able to accomplish almost everything that I had on my list.
I had great cardio workouts for all but one day. (Which was the morning after I stayed up too late.)
I started off the week with a great Yoga class at the Y that focuses more on stretching and I finished off the week with a really hard Power Yoga class at 24 Hr Fitness.
I managed to stick to our weekly menu plan and even made a healthy choice the one time I went out to lunch during the week. (Even though I was craving Mexican food.)
I was finally able to get HayHay to show me how to operate the new TV and Wii so I took a new Fit Test and set my weight loss goal on the WiiFit to help me monitor my progress. (One nice surprise, the Wii shows my weight 3 pounds lighter than my digital scale.)
I haven't had one. single. beer. all. week! (Did I ever mention how much I love beer? This is a tough one for me, but I'm sticking to the "no beer during the week" rule.)
I lost two pounds this week. Seven more to go.
I received my fitbook in the mail this week so I was able to start recording all my goals, workouts, and food all in one place. I have never had any desire to follow any kind of diet program where I had to count calories or points. I just know myself well enough to know that I won't stick to it.
But, after these past two weeks of recording what I ate, I've discovered that it has helped me be more accountable to myself and my commitment to cut down on my snacking and mindless eating. Here's my food log from yesterday. I love how you can rate each meal with the happy face or sad face. 🙂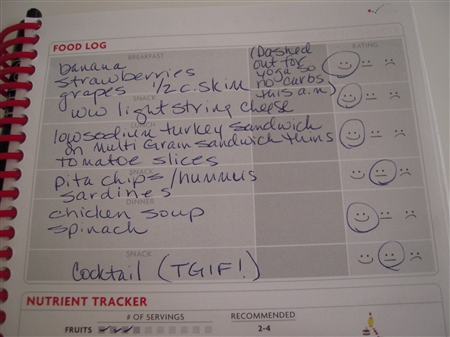 I only did crunches once last week and was sore for DAYS, but this week, they're on the calendar for three days. Here's my workout plan for next week.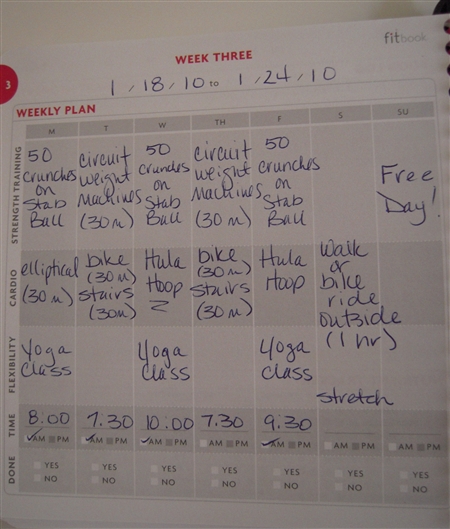 My goals for next week are:
Go to bed early EVERY night. It's amazing how much better I feel in the morning when I actually get 7 or 8 hours of sleep.
Plan meals for the week, do the shopping on Sunday and stick to the plan.
Start every morning with a positive attitude and stay away from any negative influences.
This Challenge isn't just about losing weight; it's about feeling healthier and happier with myself, making better choices in all aspects of my life and keeping a positive attitude about 2010 being a great year! Have you ever heard that a home is said to be lucky and will have a prosperous year if a plant blooms on New Years Day? Look what I found on my Jade plant on New Years Day.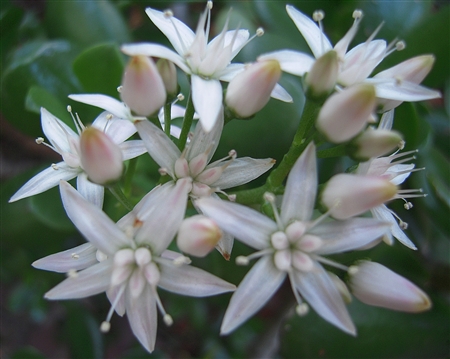 When we first moved to our home almost eight years ago, I moved this sad little Jade plant to my front courtyard because I heard that a Jade plant symbolizes prosperity and good luck. I've nursed this Jade ever since and it's grown to be quite large but has never bloomed until now.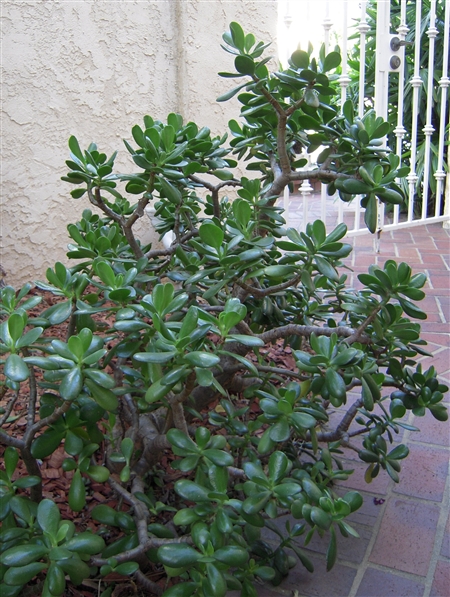 If the Chinese superstition proves to be true then we should be looking forward to a prosperous year! (Believe me when I say that we need for that to happen.)
Have a great week everyone!

~LilSis