January 18, 2010
Have you been really disciplined with your New Year's resolutions and want to reward yourself?  Maybe you've already lost a couple of pounds and need a non-food treat?  How about getting yourself a Clarisonic Skin Cleansing System!
I've mentioned before that I'm not an early-adopter.  I've only had an iPod for a year, an iPhone for a few months, a Wii for a couple of weeks, and I've yet to buy a blu-ray player.  My television is over 20 years old and weighs as much as I do.  Oh yeah, and my car will be 10 years old in a couple of months.  With all that in mind, I'm sure it doesn't surprise you that I've been hearing about the Clarisonic for over a year and just now got one.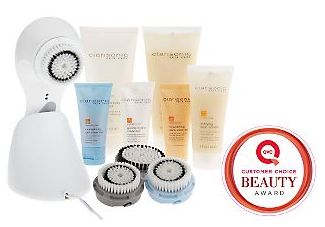 Why did I wait so long!  My skin is already dramatically different in only two weeks of using the Clarisonic:
It feels much much cleaner deep down, and clogged pores are becoming clearer
It's radically smoother in texture
I noticed some of these benefits immediately, and I continue to be pleased with the cumulative improvement I see in my skin, which is a pretty big deal for me.  I've never had pretty skin in my life.  I started making weekly trips to the dermatologist when my skin started breaking out at age 12.  In my early 20s, I was one of the first people to use Accutane, but by then I had scarring that really bothered me.  In late 2007, I had 6 Fraxel laser treatments at a cost of well over $5000.  By the way, I have a high tolerance to pain, but that was the most painful thing I've ever experienced.  Thankfully, I did see substantial improvement in my skin's texture and scarring was reduced somewhat.
But even so, I'm still not happy with my skin and I'll always be looking for ways to improve it.  The Clarisonic is an excellent tool, and it cost much less than $5000!  I got mine for $225 through QVC because their deal came with some extra goodies like cleansers and additional brush heads.  The model I got comes with a brush for your body, as well as 3 facial brushes.  You can also buy the Clarisonic through Amazon, Ulta, Sephora, and probably lots of other retailers.
I highly recommend the Clarisonic…don't wait forever like I did!

~BigSis