January 20, 2010
Even though I'm not a big football fan any more, I still think it would've been fun for the Chargers to end up in the Super Bowl. Unfortunately after last week's loss, it's just not going to happen for San Diego this year. It would have been a blast for all for our friends who are "die hard" Charger fans and, since I'll use any excuse to get friends together, we probably would have thrown a big ol' Super Bowl Party.
I saw this edible snack bowl, "Super Bowl", in the January/February issue of Food Network Magazine and I thought HayHay might get a kick out of it. So, just to try it out and see if it would really work, I made it on Sunday since the guys were watching football all day, and chips and dip are a must on "football watching days".
And even though the article says that the bowl is sturdy enough for dip, I just served their tortillas chips in it.
HayHay was quite intrigued over the fact that the bowl was edible, so as soon as I told him that it was okay to dig in, he took a big chomp!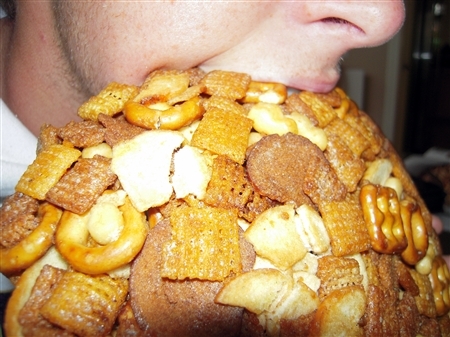 And, guess what? He quickly found out that Chex mix baked with a couple of egg whites pressed into the shape of a bowl isn't so tasty after all. So, I ended up breaking the bowl apart into small pieces, spreading it out on a cookie sheet, sprinkling with salt and garlic powder, baking in the oven at 350 for about 30 minutes and presto, the Chex mix was crisp again and was devoured in minutes.
I like how the bowl turned out and I think it might be a fun way to serve chips and dip occasionally for a party, but since this recipe requires 8 cups of Chex mix, it almost seems like a waste of two good bags of Chex Mix. If I made this again, I would probably do smaller bowls and just serve nuts or some of the same snack mix in them.
Super Bowl
Food Network Magazine

2 large egg whites
8 cups snack mix (Chex Mix or Asian rice cracker mix)
Cooking spray
Preheat the oven to 325. Beat the egg whites and 2 T. water in a large bowl with a mixer until slightly stiff peaks form. Add the snack mix and toss until evenly coated.
Generously coat a 3-quart ovenproof bowl with cooking spray and place the snack mix in it. Crumple a large sheet of foil and mold into a bowl shape about one-third the size of the 3-quart bowl. Coat the outside of the foil bowl with cooking spray and press into the snack mix to make a well in the middle, forming the snack mix into a bowl shape.
Place the bowl with the foil into the oven and bake until the snack mix sets, 30 minutes. Remove from the oven and let cool slightly, 5 minutes. Carefully remove the foil. Cool 30 more minutes, invert the edible bowl onto a plate and cool completely.

~LilSis