January 30, 2010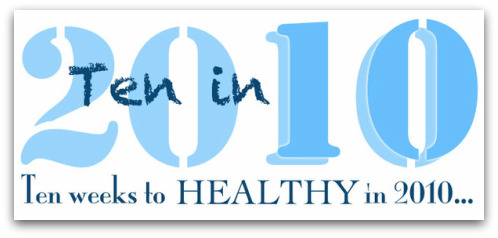 The Ten in '10 Healthy Challenge officially began on January 2, 2010 so in just a couple of days it will be a month since I started the challenge. I weighed in yesterday and I've lost a total of 6 pounds in the four weeks so I'm feeling pretty good. Not a lot has changed since my update last week, I'm just really trying hard to stay focused and keep myself motivated.
Here are a few things that have really helped me stay on track.
Writing down my weekly workout plan and keeping my food log every day.
Getting up earlier, having breakfast earlier and doing my workout first thing in the morning.
Planning meals for the week and doing all the grocery shopping on Sunday.
Always keeping healthy snacks on hand! (I've actually had to start hiding a few things so the guys don't gobble them up.)
This past week, I started getting a little bored with the same elliptical machine that I had been using and I knew I wasn't getting as good a workout as I could so I broke out of my comfort zone and tried a new machine. If you happen to see one of these Matrix Elliptical Cross Trainers at your gym, hop on it and see what you think.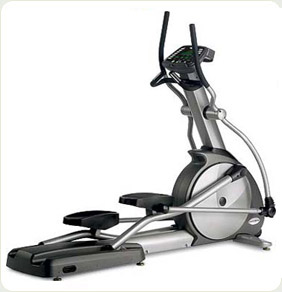 This machine will kick your fanny, but I absolutely love it!
You have all sorts of different programs to chose from, but so far I like the Fat Burner a lot and the Glute Training is my favorite.  It feels like a stair climber but is much easier on the knees.
This machine really boosted my cardio workout this week!
I think what I learned last week is that if you're getting bored with your workout, then just change things up! I know if I'm getting bored, then the bottom line is that I'm not getting a great workout. Since I'm in the gym five days out of the week, I always go for a really long walk by the beach on Saturday just for a change of scenery.
This next week is probably going to be my toughest challenge yet. I'm leaving on Tuesday to go to Texas and I'll be there for a week visiting family and friends. Typically during my week long visits, we go to our favorite Mexican food restaurants a few times.
I'll definitely give myself a treat or two, but it's going to take a lot of willpower to not overindulge. If I'm not careful, I could easily gain back six pounds in a week of eating tacos, nachos, tortilla soup, chips, salsa, and freshly made guacamole. And, of course, the meal isn't complete without a really cold Dos Equis.

~LilSis